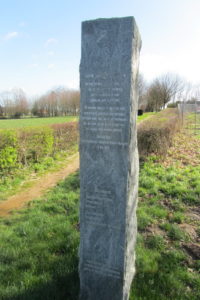 In April and May, the people of the Netherlands will be hosting 6 thousand Canadian soldiers and their families who are returning to commemorate the fiftieth anniversary of the Liberation of Holland. Our Dutch friends are opening their homes to billet Canadians and are co-ordinating parades, memorial services, receptions and transportation in a warm welcome. We should remember also that they have been tending our 5,706 Canadian Graves for the past fifty years.
In response to these gracious gestures, the Army Course, a group who first met in 1943, has volunteered to organize the establishment of a memorial forest. This would be a gift to the people of the Netherlands from those in the land, sea and air forces of Canada. In doing this, we are pursuing the original concepts of the Toronto Advisory Council to Canada Remembers.
As Holland is undergoing a major reforestation program, a Canadian contribution would be particularly appropriate. Our plan is to have 100,000 trees on over 100 acres, representing the 100,000 who served there.
The pilgrimage of Canadian veterans in May will be both a sad and happy time for Netherlands and a sad but proud time for Canadians.
Mission: This forest will become a memorial to those Canadians who gave their lives in the battles to liberate the Netherlands. It is a gift from those who fought and lived to the people of the Netherlands.
30th December 1998
The trust approved of a $1,000 grant to the Ontario Forestry Association, in trust for the Canada – Netherlands Memorial Park.
28th January 1999
The chairmen of the Royal Canadian Air Force Association Trust Fund has instructed that the enclosed cheque to the value of $1,000 be forwarded to you on behalf of the Air Force Association of Canada as a donation to the Canada – Netherland Memorial Park.
30th June 1999
In FY 1999/2000 trustees approved $1,000 worth of grants to the Canada-Netherlands Memorial Park.
1998/1999
From 1989/1990 to 1998/1999, trustees approved $1,000 worth of grants to the Canada-Netherlands Memorial Park.