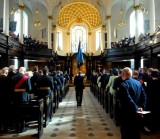 Current project information can be viewed here.

---
Lieutenant-Colonel (Retired) John Murphy was born in Liverpool, England in 1940 and emigrated to Canada in 1953, settling in Toronto. He was an Army cadet for 3 years, Air cadet for 5 years, worked at Garret Aircraft Company. He obtained a private pilot's license at the Toronto FC, Malton in 1958. His 36-year (1960-1996) RCAF/CF career included four 415 Squadron tours (three Argus in Summerside and one Aurora in Greenwood) plus a flying tour on Maritime Proving & Evaluation Unit (Argus) in Summerside. A mini-TechTel (AERE) course preceded a one-year isolated tour as DMCC OpsO, RCAF Station Pagwa, Ont. Staff positions included: MARCOM Staff Officer Evaluations & Requirements (Air) Halifax; Executive Assistant (EA) Commander MAG, Halifax; (COMFAIRKEF) USN exchange tour, Keflavik, Iceland; NAV/ATC/AWC career manager NDHQ; Secretariat NDHQ, Ottawa; and (SACLANT) Air Warfare Programs Officer, Norfolk, Virginia retiring in Victoria, BC. Volunteer work in BC included: Deputy Director of the City of Victoria Emergency Preparedness Program 1995 -2002; British Columbia Building Envelope Committee; and Director Victoria Harbour Residents Association. In Summerside: Canadian Cancer Society; President Summerside Masonic Temple Company and a few plunges into municipal and provincial politics. He has been a Shriner since 1976. In 1996, he joined the RCAF Officers Association, Victoria, BC and joined RCAFA 200 Wing Summerside in 2008. John was appointed Atlantic Group Trustee then elected Chair of the Board of Trustees. In 1964, John married the former Jeanne Steele of Summerside and they reside in Summerside, PE.
---
Robert Bruce Harten B.Sc., CA, CPA, CD, Born in Sault Ste Marie, Ontario in 1949. Primary and secondary education completed in Sault Ste Marie. Graduated from Lake Superior State College, Sault Ste Marie, Michigan with a B. Sc. (Business Administration) in 1971, admitted as a Chartered Accountant in 1975. Commissioned as a CIC Officer with 155 Squadron RC(Air)C's in 1970. I was employed by Canada Post Corporation as a Divisional Director of Internal Audit in London, Winnipeg and Ottawa. While in London I served as a CIC Officer with 614 Squadron RC(Air)C's, completed the Captain Qualification Course and promoted to Captain. During my employment in Ottawa, I served with 632 Squadron RC(Air)C's, and became Commanding Officer and was promoted to Major. Employed as an Independent Consultant to the DND from 1995- 1997. In 1997 I transferred to the Primary Reserve attached to the Directorate of Air Strategic Planning , and the Directorate of Force Employment. Returned to Sault Ste Marie in 1999, employed as a Senior Manager Internal Audit and Risk Management with Ontario Lottery and Gaming Corporation. Retired in 2008. Member of 432 (Algoma) Wing since 2010, Treasurer since 2012.
---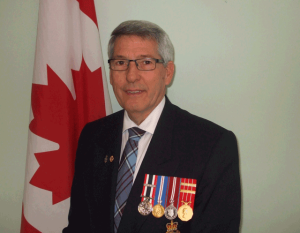 Don Hogan – Trustee Pacific Group MAJOR (RETIRED) DON HOGAN, CD – Don joined the Royal Canadian Air Force in Vancouver, B.C. in 1963. After 27 years and many postings across Canada and Germany, Don took his release 1990 retiring in Comox, and started his civilian career as an orthodontic laboratory technician. Don enrolled in the Cadet Instructor Cadre in 1991 and served for 17 years. He was the Commanding Officer of 386 Squadron from 1999 to 2002. In 2003 Major Hogan was appointed Area Cadet Instructor Cadre Officer for Vancouver Island and Powell River. He was Commanding Officer for 363 Squadron in Campbell River from 2006 to 2008. Major Hogan was employed with the Regional Gliding School in Comox every summer from 1998 to 2012. From 2002 to 2007 he was the Chief Ground School Instructor. Following this, Don joined the B.C. Provincial Committee of the Air Cadet League of Canada as a League Representative for two Air Cadet Squadrons. Don has been a member of 888 (Komox) Wing of the Royal Canadian Air Force Association since 1992. He has served the Wing on many committees including Ident-A-Kid program, Sgt-At-Arms, Membership Chair, Entertainment and Housing committees as well as backup to the Wing Manager. He served on the Wing Executive Committee four years and was President of the Wing in 2013-2014. Don assisted the NEC on the National Constitution review and has attended many National and Group AGMs. Don received the National Meritorious Service Award in 2010 and was awarded an Honorary Life Membership in 2015.
---
Michael Roy joined the CF in 1974 at St. John, New Brunswick as an Instrument-Electrical Technician. He was posted to numerous Sqns throughout the CF and has vast experience on numerous aircraft types and fleets. His postings ranged from 431 (Air Demonstration) Sqn in Moosejaw, 442 Sqn and 407 Sqn in Comox, 404 Sqn in Greenwood and finally numerous units in Cold Lake such as 419 Sqn, 416 Sqn, AETE, 1 AMS and 410 Sqn. He was posted to Cold Lake in 1993 and was promoted to the rank of CWO in Jun 2006. He retired in Oct 2007 after being offered a Reserve position within Director General Alternate Dispute Resolution (DGADR). He was employed as Lead Trainer and Promoter at the 4 Wing Dispute Resolution Center and is a certified Conflict Coach. Michael retired from the CF in 2012 after 37 years of honourable and loyal service. Michael joined the RCAFA in 2002 and has been on the executive committee of 784 (Diamond Jubilee) Wing since 2009, initially as 2nd Vice-President and more recently as 1st Vice-President. He is married to Evelyn LaPratt.
---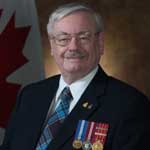 LIEUTENANT-COLONEL (RETIRED) BRIAN W. DARLING, CD
Lieutenant-Colonel Brian W. Darling, CD, was born in England in 1940 and came to Canada with his family in 1953. From 1954 to 1959, he was an air cadet in 592 (Canadair Community) Squadron, attending summer camps at RCAF Stations Clinton and Greenwood. In 1958 was awarded a Flying Scholarship. Mr. Darling served for 32 years in the Air Force Reserves. From 1961 to 1974 he was an officer in the Cadet Instructors List, during which he served as Commanding Officer of 592 and 588 Squadrons. In 1974, Mr. Darling transferred to the Air Reserve as 401 Squadron's Personnel Administration Officer. (PAdO). In 1978, he was promoted Major and appointed Wing PAdO in 1 Air Reserve Wing. In 1984, he was promoted Lieutenant-Colonel and appointed Wing CAdO. In 1991, he completed the National Security Studies Course. He transferred to the Supplementary Reserve in 1993. Mr. Darling has been active with the Air Cadet League of Canada (Québec and Ottawa Valley) since 1974. He served on 588 and 621Canadair Squadrons' Sponsoring Committee and Chairman of 622 Frontenac Squadron. In 1988, he became a Squadron Advisor and from 1997 to 2005 was the Regional Coordinator for the West Island Region's eight squadrons. He continues as a Squadron Advisor. Mr. Darling joined the RCAFA in 1976. In 1993, he was appointed Honorary Québec Group President. He is the founding President of 394 (West Island) Wing. In 1995 he was elected Vice-President of Québec Group and became Group President in 1997. He was the National President from October 2009 to October 2011. He is currently a trustee of the RCAFA Trust Fund.
He has received several awards including the Queen=s Golden and Diamond Jubilee Medals; the Air Cadet League Certificate of Merit; and the RCAFA Meritorious Service Award. Mr. Darling has been member of the Royal Canadian Legion for 21 years. He was elected President of Pointe-Claire Branch 57 in 2014. He is also the Vice-President of the Lakeshore Legion Housing Association, which manages the Seniors' and Veterans Residence AManoir Cavagnal@ in Hudson, QC. In civilian life, Mr. Darling worked for the International Civil Aviation Organization (ICAO) for 34 years retiring in 2003.
---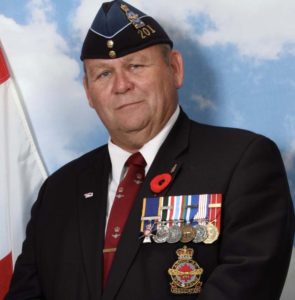 Daniel J. Miller MM, CD
Daniel J. Miller enrolled in the Canadian Forces on 4 July 1977 as an Administrative Clerk. Upon completion of both recruit and trades training he was posted to the Canadian Forces Officer Candidate School in Chilliwack, BC. In June 1981 he was posted to the 1st Regiment, Royal Canadian Horse Artillery at Lahr, Federal Republic of Germany as a Battery Clerk. In August 1984 he was promoted to Master Corporal and posted to Maintenance Company at Camp Gagetown New Brunswick. Upon promotion to Sergeant in June 1987, he was posted to Canadian Forces Hospital, 4 Wing Cold Lake Alberta as the Chief Clerk. Upon promotion to Warrant Officer in 1993, Dan was posted to the Armoured Battle School at Camp Aldershot, Nova Scotia. In 1997 he was posted as the Chief Clerk of Her Majesty's Canadian Ship NIPIGON at Halifax, Nova Scotia. In 1998 he decommissioned NIPIGON and was subsequently transferred to the staff of the Commander Standing Naval Forces Atlantic as the Staff Chief Writer. In March 1999, as part of the CSNFL Staff, Dan Miller deployed to sea until April 2000. The CSNFL staff was the Command Staff responsible for the NATO deployment of up to 15 ships and 3 submarines and was the only permanent immediate operational Naval Force at sea. Upon his return to Halifax in 2000, Dan was posted to the Language Training Center in Shearwater, Nova Scotia in order to attend the French Language Training course. Upon promotion to Master Warrant Officer in June 2001, he was posted to Land Forces Atlantic Area Headquarters in Halifax Nova Scotia as the Branch Sergeant Major and Deputy Financial Policy Plans within the G8 Branch. In June 2003, Dan was transferred to the G1 Branch and assumed the duties of Area Superintendent Clerk and Branch Sergeant-Major. In January 2006, he was promoted to Chief Warrant Officer and assumed the duties of the MOC Advisor for the Resource Management Support Clerk occupation and remained in this position until his retirement in July 2007. During his career, CWO Miller was deployed as part of Operation Allied Force, KOSOVO campaign and Operation Palladium, in Sarajevo, BIH as a member of the J3 Operations in the Stabilization Forces. Dan was appointed as Member of the Order of Military Merit in 2005. CWO Miller assumed the post of President, 201 (Confederation) Wing Charlottetown, Air Force Association of Canada in May 2008. Dan Miller resides in Charlottetown, PEI with his wife Phyllis.
---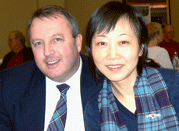 The Royal Canadian Air Force Association Trust Fund is served by two non-salaried personnel – LCol (Ret) Dean C. Black, CD is the Secretary to the Board of Trustees and Wenjun Song serves as the Treasurer. Dean served in the Canadian Forces air force from 1977 to 2007, when he retired and took up the Executive Director role at the Air Force Association of Canada. Wenjun joined the association as comptroller in March 2007, bringing her advanced accounting, auditing, investing and budget planning skills much to our benefit. Monthly reports are provided to the Chairman of the Board of Trustees, and the Chairman produces quarterly reports. If you would like to learn more about the Trust Fund you can find the Fund Constitution here