Air Marshall George Mitchell Croil, CBE, AFC, MiD and Cde (Fr) – FIRST CHIEF OF THE AIR STAFF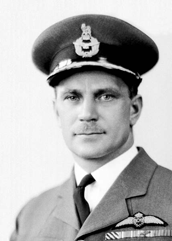 Air Marshall George Mitchell Croil, CBE, AFC, MiD and Cde (Fr) , is considered by many to be the Father of the Royal Canadian Air Force (RCAF).
The only offspring of Scottish Immigrants, Thomas Croil and Christain C. Mitchell, George was born in Milwaukee, Wisconsin on June 5, 1893. He spent four years in the American public school system before moving with his parents, at the age of 11, to Montreal, Quebec. In that predominantly French speaking community, he attended Westmount Academy from 1903 to 1907. For the next three years he was enrolled at Robert Gordon College in Aberdeen, Scotland. George then studied Civil Engineering for two years utilizing the services of a private tutor. He successfully passed a written examination and was granted a British Engineering Certificate.
In 1912, Croil was hired on as an Assistant Superintendent with the Mahawale Tea & Rubber Estate in Ratnapura, Ceylon, India. Employed there until September, 1914, he kept the company's machinery running and supervised the daily work schedules of some 700 plantation workers.
When World War I broke out, Croil was Commissioned as a Lieutenant in the 5th Battalion of the Gordon Highlanders where he served as a Machine-Gun Officer. This storied British Army Infantry Regiment recruited its personnel from in and around the city of Aberdeen and, to a lesser extent, from the northeast area of Scotland. On January 15, 1915, George was promoted to Captain and assumed responsibilities as a Company Commander. He was seconded to the Royal Flying Corps (RFC) in May, 1916, where, after only two months of flight training, he earned his Pilot Wings. Captain Croil then transferred to the RFC as a Flying Officer on July 24. Croil carried out his duties as a Flying Instructor training new pilots in the Middle East until March of 1919. He operated from bases at Abu Sueir, El Rimmal and Suez with No. 57, No. 58, No. 169 and No. 19 Training Squadrons. At one point he was a Station Commander at a Training Depot and for a short period was Acting Commander of the 69th Training Wing. Captain Croil also flew operational sorties as a bomber pilot with RFC No. 47 Squadron in Egypt and Macedonian.
G.M. Croil occasionally transported to various desert camps a British Army Major named T.E. Lawrence who was more commoningly known as "Lawrence of Arabia".
George Croil received from France on February 8, 1919, the award of the French Croix de Guerre with Palm. It was granted for valuable services rendered in connection with the War. Four months later in
June he was Mentioned in Despatches, the text of which is as follows:
"For consistent devotion to duty whilst a Flight Commander in a Training Squadron and for his determination on the following two occasions". December 6, 1917 – When on information being received that a pilot had got lost on the way to Akaba from Suez where he had been sent to retrieve Major T.E. Lawrence by air, Captain Croil set out in search of this officer making repeated searches for the missing pilot and machine along the way. Picking up Major Lawrence at Akaba, Captain Croil returned him to Suez all the while continuing to search and inquire about the missing pilot and aircraft. December 23, 1917 – When a party organized by Captain G.M. Croil set out to search for a machine which had been reported as missing on a flight between Suez and Akaba, one of the machines of the search party having had engine failure, landed in the desert half way between the two points. Captain Croil showed great resource by flying into high winds and a sandstorm while leading two other aircraft carrying mechanics, spare parts and fuel for the disabled machine. Reaching the downed aircraft, repairs were quickly carried out. The return flight against gale force winds was most difficult as blowing sand obscured the whole countryside. Also, two of the three pilots were mere students. Keeping his flight on the right compass heading, Captain Croil showed great skill as he flew behind them, safely shepherding his charges home. The journey, which was normally an hour in duration, took three due to the adverse weather conditions.
Croil was promoted to the rank of Major on April 20, 1919. At War's end he had logged in excess of 1100 hours of flying time in 18 aircraft types – land and floatplanes.
Major Croil was awarded the Air Force Cross (AFC) on June 3, 1919. It was for Distinguished Services in the Middle East during the War while he was serving at No. 32 Training Wing.
Returning to Canada, Croil was appointed to the Canadian Air Board (CAB) in June 1920. As one of six Canadian Air Station Superintendent's, Croil was instrumental in establishing air bases at Morley and High River, Alberta. He left the CAB on February 28 1923 and the next day joined the Canadian Air Force (CAF) as a Squadron Leader (S/L). While in Western Canada, George met Ailsa Swabey Arnold and the two were married in High River on June 5, 1923, which just happened to be Croil's 30th Birthday! The union produced five children.
George Croil was one of the original sixty-two Officers whose members made up the core of the newly organized RCAF when that service came into being on April 1, 1924. Preparatory to being posted to England as a Liaison Officer, S/L Croil undertook an Officer's Staff Course at the Royal Military College (RMC) in Kingston, Ontario from October, 1924 to February, 1925. While in Britian for the better part of three years (March, 1925 to November, 1927), Croil benefited from additional training undertaken at the RAF Staff College at Andover, followed by a Flying Instructors Course at RAF Cranwell. Cranwell, established in 1919, was the World's first Air Academy. Returning to Canada in November, 1927, Wing Commander (W/C) Croil then served for five years as Station Commander at Camp Borden near Barrie, Ontario. From January 17 to December 31, 1933, Croil returned to England to study at the prestigious Imperial Defence College in London. He was appointed the RCAF's Senior Air Officer (SAO) in January, 1934 with the rank of Group Captain (G/C). From this position, he tirelessly fought for autonomous status for the Air Force. A year later in January, 1935, he was promoted to Air Commodore (A/C). Over the strong objections of the Army's Chief of the General Staff (ACGS), Croil won admission to a seat on the Defence Council. On August 4, 1938, Croil succeeded in removing supervision over the RCAF by the ACGS's office when he was promoted to the rank of Air Vice Marshall (A/V/M). From then on, he reported only to the Minister of National Defence. On November 19 of that year, Croil's title changed from SAO to Chief of the Air Staff (CAS) and this was most fortunate for the RCAF as war clouds were beginning to form over Europe.
Britian and France declared war on Germany on September 3, 1939, after that country had forcibly occupied Poland two days earlier. Canada's declaration of war against the Nazi regime came one week later on September 10th. Canada had very little in the way of an effective Air Arm at the time, possessing only 270 aircraft, the majority of which were considered obsolete. Her manpower strength – all ranks – was a paltry 4,000 in total. A reserved man, strict and professional, AVM Croil stood out as a conscientious, dedicated officer. When Charles Gavin "Chubby" Power became Canada's Minister of Defence for Air in May 1940, he asked for Croil's resignation as he did not believe they could effectively work together. While acknowledging Croil's qualities as an exceptional administrator, Power admitted to being somewhat put off by his "puritanical and regimental" disposition. Power said; "Rightly or wrongly, I got the impression that friendly, sympathetic cooperation with him would, owing to our fundamental differences of temperament, be difficult if not impossible. I wanted friendship and cooperation; he, I imagine, expected me to give little more than routine supervision, leaving to him the unquestioned authority over members of the service and possibly over the purely civilian functions of the department". For the good of the service, Croil stepped down and accepted an appointment as Inspector-General of the RCAF. Less than two months later, C.G. Power had been replaced as the Minister of Defence for Air!
By January 1, 1944, the RCAF's growth had reached its zenith when its personnel numbers topped out at 215,200. This figure included 15,153 females in the Women's Division. Towards war's end, the Royal Canadian Air Force capably fielded no less than 78 Squadrons for home and overseas duty. Canada's Air Force rose to become the 4th largest in the Allied cause and it all happened because of the implementation and execution of the British Commonwealth Air Training Plan (BCATP) in Canada, coupled with the influence and guidance of a man named George Mitchell Croil.
George Croil was made a Commander of the Most Excellent Order of the British Empire (CBE) on January 1, 1943. The text of this award is as follows; "This officer's extensive experience and devotion to duty over a considerable period of time has marked him as an officer of exceptional ability. Prior to the opening of hostilities he held the appointment of Chief of the Air Staff and as such was largely instrumental in drawing up the BCATP and in laying plans for the future development of the Plan. As Inspector General his worth was outstanding both in his efforts in the measures taken for the defence of Canada and in his suggestions for the improvement of morale and discipline of the service. His leadership and mature judgement has been invaluable in the direction of the RCAF".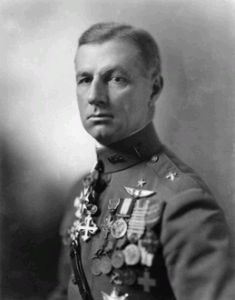 Interestingly, Croil's first cousin, who also hailed from Milwaukee, was none other than Brigadier General William Lendrum "Billy" Mitchell. In 1920, Mitchell was appointed Deputy Director of the United States Army Air Service (USAAS). A renowned pioneer of U.S. air power, General Mitchell was generally regarded as one of the most far-sighted military leaders of his age. Immediately after World War l, he predicted that air bombardment would dominate warfare in the future. In 1924, he horrified and angered U.S. Army and Naval strategists with his public claim that bombs could sink ships. That same year, he correctly predicted the Japanese attack on Pearl Harbour some 17 years later. When his superiors refused to believe him, he successfully bombed and sank warships to prove his point. Furious at his constant outspoken criticisms, the War Department directed that his reappointment as Assistant Chief of the Army Air Service be denied. They further directed that he be demoted to the rank of Colonel and that he stand a general court-martial on the charge of conduct prejudicial to good order and discipline. After a seven week public trial which ended in December, 1925, Mitchell was found guilty. He was suspended from rank, command and duty and was required to forfeit all pay and allowances for a period of 5 years. Afterwards, President Calvin Coolidge reviewed Mitchells' sentence and judged it to be too severe. He changed the forfeiture from all to half pay and benefits for 5 years. Billy Mitchell chose to retire from the military and did so on February 1, 1926. He died a broken man in New York City at the age 56 on February 19, 1936. Mitchell's reputation as a national hero was completely restored by the 1955 Otto Preminger movie "The Court Martial of Billy Mitchell", starring Gary Cooper. In 1942, President Franklin D. Roosevelt petitioned Congress to award Colonel Mitchell a special Congressional Medal of Honor together with a promotion to the rank of Major General. It was not until 1946 that both awards were posthumously bestowed. William Lendrum Mitchell was the only U.S. citizen who ever had a military aircraft named in his honor. He is considered to be the father of the United States Air Force (USAF).
On October 5, 1946, RCAF Air Marshall Robert Leckie, CAS, sent the following letter to George M. Croil which said in part; "It gives me great pleasure to inform you that you have been granted the award of the 1939-45 Star. This award, normally made in recognition of operational service against the enemy, is granted to you in view of the responsibilities you carried as CAS in the making of operational decisions. The wisdom of those decisions are today reflected by the magnificent record achieved by the Royal Canadian Air Force. It is felt, therefore, that the award of the 1939-45 Star will be in some small measure further recognition of your efforts in forming a striking force which was definitely instrumental in bringing about the successful conclusion of the War. The medal of this award has not yet been struck, but it will be forwarded to you as soon as it becomes available".
In March, 1953, a 171,200 square foot Technical Training School,
dedicated as Croil Hall, opened at RCAF Station Camp Borden, Ontario.
Croil Hall continues to serve to this day as the home of Air Force Technical Training at what is now known as Canadian Forces Base (CFB) Borden.
AVM George Mitchell Croil was promoted to the rank of Air Marshall (Lieutenant General) on July 2, 1944 and retired to pension that very day.
Croil's early years of unwavering advocacy for a strong and independent National Air Force had come to fruition. His many hard fought battles on that singular issue would be the greatest achievement of his 30 year Military career!
He died in his 65th year on April 8th, 1959, in Vancouver, British Columbia.
The author gratefully thanks the National Archives of Canada who provided information for this article:
By Tom Walsh,
26 Duncan Crescent,
London, Ontario,
Canada. N5V 4E8
Phone 519-659-3298
Email-walsh@lweb.net