Aurel 'Amigo' Roy, A Quiet Shining Light
By Dean C. Black, CD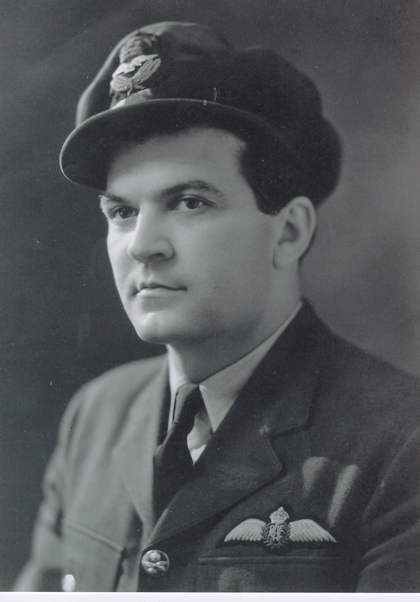 Aurel Roy's passing at 85 on 08 May 2006 could have been relatively quiet were it not for the probity in his life which only became clear most recently. Aurel grew up near Sudbury and flew Spitfires operationally with 403 'Wolf' Squadron during the Second World War. In retrospect his story says much about our Canadian attitude towards military service.
After a 56-year silence Aurel sought to reconnect with his military past when in 2001 he attended his beloved squadron's anniversary. As 403's Commander I was thrilled a veteran would be there. Aurel was a charming, vibrant and down-to-earth man; attributes that explained his war-time nickname 'Amigo'. At 80 years of age, he insisted on playing in our golf tournament. Since he played hockey twice a week he also wanted to play in our baseball game, too. Aurel was also looking forward to the dance later that night.
Aurel nearly golfed his age. At shortstop, though, he fielded a hit but collapsed after successfully chasing down a runner caught between second base and third. Two hours later after assessing Aurel's leg injury the Doctor released him with a stern look, and a wheelchair. Dancing was out, but a helicopter ride was still possible. A local reporter joined Aurel for the flight. A full-page story was the result. Copies were sent to Aurel one week later. Aurel soon called to tell me he had inadvertently upset his friends. That meant the whole town was angry. After posting the story everywhere, people were surprised and upset to read of Aurel?s military experiences; surprised because they were finding out for the first time, and upset because, well, they were finding out for the first time. Aurel had kept silent about his military past because '…he had no proof'. A 1948 fire destroyed his parent's home. His most prized possession his pilot's flying log book perished, along with his medals, photos and uniforms. Consequently, he had no desire to tell his friends about a life for which he had no supporting evidence.
Under false pretences we coaxed Aurel back to New Brunswick the following year (2002). In a surprise Black-tie military ceremony I presented Aurel with a mint-condition?Second World War RCAF Pilot?s Log Book containing information – missions, sorties, hours flown, places, dates – gathered during ten long months of research. All his training flights and Spitfire combat sorties were documented, reflecting the facts found in the squadron's war logs. Aurel was stunned and speechless; the rest of us were misty-eyed and really choked up.
Could Aurel?s post-war decades-long silence about his time in uniform have been explained otherwise? Consider that Aurel was born into a generation for which socialization into the military was both natural and expected. Aurel was also born in a country that remains untouched by and largely ignorant of the violence of total war. Reconnecting with his military past left Aurel reinvigorated. After 403?s reunion Aurel returned to Europe to reinforce the process he had begun. In a letter to me in late 2005 he said the 60th VE-Day commemoration was 'incredible'. He had ridden in a jeep snapping photographs. Most of the blurry images depicted throngs of people, ten deep lining the route miles long, cheering, clapping, and crying. Their liberators had come home and people were determined to express their gratitude. These precious moments must have served to remind Aurel of the meaning of his life.
Aurel's silence is more readily understood when we consider that in Canada we care far less about such things. We care not because we understand not. Yes, we do commemorate military heroes and we mourn those who never returned, but soon after the bell tolls eleven on Remembrance Day each year we scatter to our routines characterised less by loyalty, duty and commitment than would appear to have been the case for Aurel's generation. Aurel?s generation responded when they were genuinely threatened. The 9-11 travesty and the arrest of 17 alleged terrorists in Toronto has not had a similar effect on Canadians, despite the fact western civilization may today be more threatened than at any time in its past.
Aurel needed to reconnect with his brothers in arms before time ran out. The strength of our admiration for him was reflected in the mission we had set for ourselves. The pilot's log book and the attention we gave him reminded Aurel about the good things that came with military life. He chose not to share his military experiences with those whom he loved back home because such memories could only be shared with those whose lives had been saved by men like Aurel; men willing to sacrifice everything for strangers in need. Aurel 'Amigo' Roy was a reliable, loyal friend to his wingmen. Together these gallant men saved many. Back home Aurel was a humble, charming man who would do anything for his friends. Why would anyone in Warren, Ontario have need for a Spitfire pilot when they already had Aurel? Aurel, you were best friend to countless many all around the world who knew precious little about you. Here at home, all of us who knew precious little about you as well your closest friends today miss you dearly.