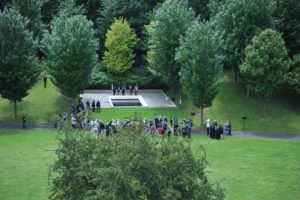 The Project is in three parts: adding four steles to commemorate the contribution of Canadians to the campaigns of the Second World War in Italy, North-West Europe, the Atlantic, and the Pacific; replacing the gravel around the pool with slabs, which we hope will cure the problem of limestone dissolving in the pool of water and discoloring the granite slab in the pool; and paving the path from the terrace into the valley which runs between the the two elements of the Garden.
5th December 2000
In mid-May, the Foundation received a letter from the Deputy Prime Minister, stating that the Millennium Bureau of Canada will contribute $19,125 for the project toe enhance the memorial Garden in Caen.
Le Memorial has very kindly agreed to help fund both the paving of the path and the area surrounding the pool. The project will greatly enhance the general appeal of the site to Canadians by moving towards a complete serving in all theatres in the Second World War.