500 (City of Winnipeg) Wing, Royal Canadian Air Force Association meets the third Tuesday of the month at Unit 283 Anavets, 3584 Portage Avenue, Winnipeg at 1330 hours (1:30PM).  A link to a map can be found here.
Monthly meetings are set to resume!  In accordance with Province of Manitoba directives, all attendees must be fully vaccinated and be prepared to show proof of vaccination.  All visitors to Unit 283 must wear a mask when moving about the facility.  Once seated, masks may be removed.  We're looking forward to meeting again and 500 Wing thanks you for your patience and understanding!
MEMBERSHIP!
Not a member yet but interested?  Contact the Wing or Ernie Drouin via email to inquire.  Joining is easy and we welcome new members.  You don't have to be current serving or retired military; anyone who supports the Aims and Objectives of the Association may join.  Not only will members receive a subscription to AirForce Magazine (one of the best military aviation publications available), you'll be supporting RCAF Association activities at both the national and local level.  Thank you for your support!
UPCOMING EVENTS OF NOTE!
NEW!

October 26, 2021:  Regular meeting.  Unit 283 Anavets, Winnipeg, MB, 1330hrs.

NEW!

November 16, 2021:  Regular meeting.  Unit 283 Anavets, Winnipeg, MB, 1330hrs.
Future regular meeting dates to be confirmed in the near future.
*RMIM Speaker Nights: see RMIM calendar here.
*500 Wing maintains a membership with the Royal Military Institute of Manitoba (RMIM) which permits all members of 500 Wing to attend RMIM speaker events, usually at the 17 Wing Officers' Mess.  Please consult the RMIM calendar for upcoming events of interest and follow the RVSP instructions at the top of the calendar page.
GARDEN OF MEMORIES COMMEMORATION BOOKLET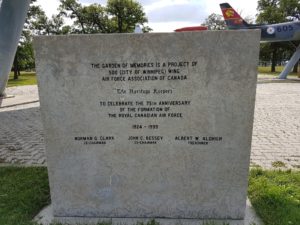 When the Garden of Memories, located across from 1 Canadian Air Division Headquarters in Winnipeg, was created in 1997, those who purchased stones were asked to provide details of service of the person being commemorated.
Sincere gratitude to Norman Malayney for investing a tremendous amount of time and effort in transcribing information for 1247 of the stones located in the Garden.
A newly revised version of the information booklet is available here.
For more information, contact 500 Wing at:
500 (City of Winnipeg) Wing, RCAFA
Suite 189
PO Box 17000 Stn Forces
Winnipeg, MB, R3J 3Y5
or by email at RCAFA500@outlook.com
The 500 Wing Board of Directors and Officers (2019 – 2021):