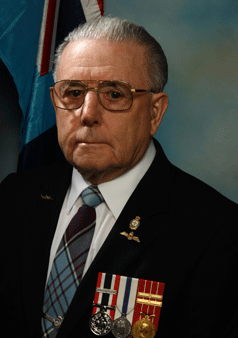 Past Honorary Group President – Air Force Association of Canada Ontario Group – NOEL T. FUNGE, MAJOR RCAF/CF (Ret), CD, BA Maj (Ret.)Funge was born in Melbourne, Australia. He joined the RCAF in 1953, graduating as a navigator in 1955. Posted to 408 Squadron, Rockcliffe, Ottawa, he flew on Dakota and Lancaster aircraft on transport and photo-reconnaissance operations in the high Arctic. He joined 412 Squadron in 1958 as a navigator on the Comet, C-5, and North Star aircraft engaged in VIP transport duties. He served for three years as an exchange navigator on Canberra reconnaissance aircraft of 58 Squadron, Bomber Command, RAF Wyton, England. In 1965 after a one-year tour as tactical reconnaissance instructor of CF-104 pilots and photo-interpreters at Marville, France, he was posted to Canadian Joint Air Training Centre at Rivers as a photo-navigator instructor on Dakota aircraft and also flew C-130B aircraft. After graduation from the Aerospace Systems Course in 1967, he served as an aerospace instructor at Central Navigation School until 1970. He then served two years as Staff officer Navigation Training at Training Command headquarters, Winnipeg; was Navigation Leader at 436 Squadron, Trenton until 1974, Aircrew Leader there until 1975; and Chief Air Training Instructor at 426 Operational Training Squadron until 1978. After serving four years as Commander of the Aerospace Squadron at Canadian Forces Air Navigation School, then as Staff Officer Navigation and Aerospace Training at Air Command HQ, he retired from the Canadian Forces in 1985. Maj (Ret) Funge now resides in Carrying Place with his wife Irene. He served as Ontario Group President 2005-2007.
---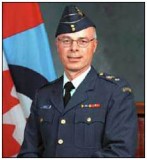 Honorary Group President – Air Force Association of Canada Atlantic Group. Brigadier General (Ret) Paul J. McCabe. Born in Truro N.S. and a past member of the 77 Truro Air Cadet Squadron, BGen (Ret?d) McCabe graduated from the Royal Military College in May 1975 with a Bachelor?s degree in Electrical Engineering and was commissioned in the Canadian Forces as an Aerospace Engineering Officer. While serving at Canadian Forces Base Shearwater he met and married his wife Sandra (Squires), formerly of Stephenville, Nfld. In May 1978, BGen (Ret?d) McCabe was promoted to Captain and returned to RMC to obtain his Master?s Degree in Electrical Engineering. In June 1980 BGen (Ret?d) McCabe was posted to the Directorate of General of Aerospace Engineering and Maintenance in Ottawa where he carried out project management activities. He was promoted to the rank of Major in May of 1984 and was posted to the Aerospace Engineering Test Establishment at CFB Cold Lake, Alberta with the responsibility for aircraft instrumentation. In July 1987, BGen (Ret?d) McCabe was transferred to the Base Aircraft Maintenance and Engineering Organization at CFB Greenwood, N.S., supporting CP140 Aurora operations. On being promoted to Lieutenant-Colonel in June 1990, he was appointed the Base Technical Services Officer at CFB Portage la Prairie, Manitoba. In September 1992, BGen (Ret?d) McCabe was posted to Air Command Headquarters, Winnipeg, responsible for coordinating maintenance of maritime aircraft and tactical helicopters. In June, 1995 he was appointed the Commanding Officer of 14 Software Engineering Squadron Greenwood N.S., responsible for software support for the CP-140 Aurora fleet. In August of 1996, on promotion to the rank of Colonel, BGen (Ret?d) McCabe was posted for a second time to Air Command, now 1 Canadian Air Division Headquarters, where he served as Deputy Chief of Staff Maintenance. In July 1999 BGen (Ret?d) McCabe was appointed Wing Commander 5 Wing Goose Bay, responsible for supporting four Allied Nations conducting low level flying training. In 2001 he was awarded the Order of Military Merit by the Governor General for significant contributions to the military and community organizations throughout his career. On promotion to Brigadier General in 2002, BGen (Ret?d) McCabe was posted to 1 Canadian Air Division, responsible for Air Force support and training activities. In June 2005, he was appointed as the Director General Aerospace Equipment Program Management in Ottawa where he was responsible for in-service support for all Canadian Forces aircraft fleets. He retired from the Canadian Forces in June 2008. BGen (Ret?d) McCabe is currently employed as the Vice President Engineering at IMP Aerospace and resides in Truro NS. He and his wife Sandra have one son, Geoffrey, who lives with his wife Tara in Saint John NB.
---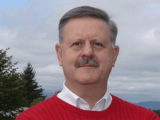 Honorary Group President – Air Force Association of Canada Pacific Group. Colonel(Ret) Jon K. Ambler, OMM, CD. Jon Ambler was born in Rotherham, England in 1955 and he and his family immigrated to Canada in 1964. They initially lived for two years in Corner Brook, Newfoundland, and then in 1966 they moved to Kenora, Ontario. He is a graduate of Beaver Brae Secondary School in Kenora, Ontario and the Red River Community College, Winnipeg, Manitoba. In 1997 he completed a BA in History and Political Science from the University of Manitoba. He was active in Sea Cadets from 1968 to 1973, and attended summer camps at Quadra and Esquimalt, qualifying as a Boatswain, and taking cruises on HMCS Provider and HMCS Columbia. He joined the Canadian Forces in 1979 as a Direct Entry Officer and was commissioned as a Second Lieutenant. He earned his Navigator wings in 1980. His first operational tour was with 415 (MP) Squadron, initially flying the Argus in Summerside and then the Aurora in Greenwood, until 1984. A tour as a Navigator-Communicator instructor followed at 404 (MP&T) Squadron. In 1986 he was selected to serve as the Navigator Career Manager at National Defence Headquarters (NDHQ) in Ottawa. In 1988, then Major Ambler was posted to the Canadian Defence Liaison Staff London, England to serve as Staff Officer Operations and Plans. Following his graduation from the RAF Staff College in 1990 he re-joined 415 (MP) Squadron, serving as Flight Commander and Deputy Commanding Officer. Promoted to Lieutenant-Colonel in 1993 he was posted to NDHQ where he served as the Executive Assistant to the Associate Assistant Deputy Minister (Personnel). In 1995 he commenced his third tour at 415 (MP) Squadron, serving as the Commanding Officer until 1997, and completing over 3,000 operational flying hours. Following his graduation from the USAF Air War College in 1998 he was promoted to Colonel and was posted to the HQ of the NATO Airborne Early Warning and Control Force in Mons, Belgium, where he was the Assistant Chief of Staff for Standards, Policy and Plans. Returning to Canada in August 2001 he served two years as the Director of Cadets at NDHQ, with overall responsibility for the Air Cadet, Army Cadet and Sea Cadet programs across Canada. In July 2003 he commenced a year long command of Task Force El Gorah, Canada's contribution to the Multinational Force and Observers (MFO), a non-UN peacekeeping force located in Egypt's Sinai Desert. Colonel Ambler took command of 19 Wing Comox in July 2004. In September 2006 he was appointed an Officer in the Order of Military Merit. Upon relinquishing command of 19 Wing in July 2007 Colonel Ambler retired from the Regular Force. He continues to serve part time as a Reservist. During the past year in his capacity as a SPO for CAS he wrote ?way ahead? papers on the ANAV, AESOp and FE Occupations. Involved in municipal politics he will run for office in the upcoming election. He also works part time as the Manager of the Comox Air Force Museum. He and Jill, his wife of 31 years, reside in the Comox Valley.
---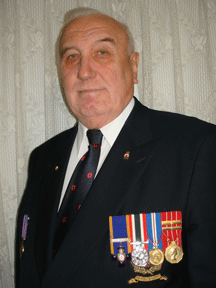 Honorary Group President – Air Force Association of Canada Quebec Group – Colonel (Ret) Alexander Albert Bialosh, OMM CD. Colonel Alex Bialosh served in the Canadian Forces for 37 years in the Royal Canadian Air Force and the Canadian Forces from 1956 to 1993. He is a graduate of College Militaire Royal de St-Jean at St-Jean, Qu?bec and the Royal Military College of Canada at Kingston Ontario from where he received his Bachelor of Science degree. His military career was in telecommunications and aerospace engineering. Col Bialosh served as the National Executive Director of the Last Post Fund (LPF) from April 1996 to August 2008. The LPF is a non profit organization that works with Veterans Affairs Canada to provide funeral and burial grants to Canada?s war veterans and military disability pensioners. The LPF has its head office in Montreal with Branches in each province across Canada. In his military career, he served in a various field postings in Saskatchewan, Alberta, Ontario and Quebec. He also saw service in Ottawa for 10 years in several positions in National Defence Headquarters and for five years in 10 Tactical Air Group Headquarters in St-Hubert, Quebec. In 1978, Colonel Bialosh participated in the Canadian-American Task Force Operation Morning Light as an on-scene commander in search and recovery of the Russian satellite Cosmos 954 that impacted in the Northwest Territories. From 1980 to 1984, he served in Supreme Allied Powers Europe HQ (SHAPE) in Mons, Belgium where he was responsible for the implementation and management of a large NATO fighter aircraft operational programme. He was appointed Commander 1 Wing in St. Hubert in 1990 to command four squadrons in support of tactical helicopter operations. He retired from the Canadian Forces in 1993 and worked as a volunteer in the Military Family Support Centre in St-Hubert, Qu?bec in support of computer information coordination. In 1994 he started a management consulting services enterprise in St-Bruno, Quebec. He provided management implementation planning support to the Department of National Defence to restructure and reorganize selected Canadian Forces organizations and units as a result of Federal Government budget changes. Colonel Bialosh was presented with the Officer of Military Merit medal in 1987 by the Governor General of Canada. In 2002, he was awarded the Deputy Minister of Veterans Affairs Canada Commendation in recognition of his work with the Last Post Fund. In 2008, he was elected First Vice President of the Royal Canadian Legion, Branch 147 at St-Bruno, Quebec and in 2010 he was elected Branch President. He was also elected Deputy Commander of District 10 of the Quebec Provincial Command. He and his spouse, Marie-Andr?e, live in retirement in St-Bruno-de-Montarville, Quebec. They have three daughters, Justine, Claudia and Catherine, as well as seven grandchildren: Tyler, Carleen, Alexandre, Sacha, Angela, Keven and Melina.