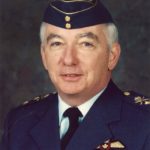 LGen DeQuetteville's distinguished military career began as a fighter pilot with 422 Strike/Attack Squadron at CFB Baden-Soellingen in Germany. Subsequently, he graduated from the United States Air Force Test Pilot School in 1971, and went on to CFB Cold Lake for a three-year stint as a test pilot with the Aerospace Engineering and Test Establishment.
LGen DeQuetteville has held command positions at all levels of the air force. In 1902, he was appointed Commanding Officer of 410 Sqn, Cold Lake, the first CF-18 Hornet squadron in the Canadian Forces. In 1985, he became Base Commander, CFO Baden-Soellingon, and in 1988 he assumed command of 1 Canadian Air Division, with headquarters at CFB Lahr, Germany.
In 1994, he became Deputy Commander of Air Command, and Commander in 1995. He assumed the additional appointment of Chief of the Air Staff in 1997. LGen DeQuetteville has spent several tours of duty in Ottawa in various senior staff positions. These have included Director General of Force Development, and Chairman of tho DND/CF Management, Command and Control Re-engineering Team.
Honours
26/03/1993 CMM Commander of the Order of Military Merit
Military
1962 Officer Cadet Initial Flight Training RCAF Station Centralia
1963 Flying Officer Jet training at RCAF Station Centralia T-33
1964 Flying Officer CF-104 Starfighter in Europe
1980 Major Flying CF-18 Hornet
1985 Colonel Base Commander CFB Baden-Soellingen
04/1988 Brigadier-General Commanding Officer of 4 Fighter Wing
07/1988 Brigadier-General Commander 1 Canadian Air Division
07/1990 Brigadier-General Director General Force Development NDHQ
07/1992 Major-General Chief of Force Development
07/1994 Major-General Deputy Commander of Air Command
06/1995 Lieutenant-General Commander of Air Command
04/1997 Lieutenant-General Retires
Civilian
1997 Vice-President (Canada) Boeing