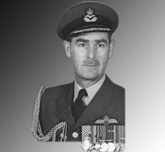 March 16, 1914 December 14, 2008. Alex, M. Jardine was born in Vancouver, and lived and went to school in Victoria, In 1935 he joined the !loyal Air Force and flew with No, 205 Flying Boat Squadron in the Far East between 1937 and 1942, He was awarded the Air Force Cross in 1942, In that same year he was taken prisoner and was in a Prisoner of War camp until 1945. In 1946 he attended the IlCAF Staff College, Between 1947 and 1948 he commanded the HCAF Unit at i\rnprior, Ontario,
Between 1948 and 1950 he was the head of the Department of Military Studies at the Hoyal Military College. From 1950 to 1953 he was Staff Officer Organization at Training Command Headquarters, From 1953 to 1954 he was in the Directorate of Organization and Establishments in Air Force Headquarters. lie was promoted to Group Captain in 1954 and became Commanding Officer of RCAF Station Rockcliffe, In December of that year he was appointed Honorary Aide-de-Camp to the then Governor General of Canada, the Right Honorable Vincent Massey.
Group Captain Jardine commanded llCAF Station St, Hubert between 1955 and 1959 and from 1960 to 1963 he was the Air and Military Attache
in Prague, Czechoslovakia, His last tour in the IlCAF was as Commanding Officer, llCAF Station Penhold., Alberta from 1963 to 1965 in which year
he retired, Alex. Jardine is an Associate of the Royal Aeronautical Society and an Associate of the Canadian Aeronautics and Space Institute. He
is Editor of "Air Cushion Vehicle Review", a supplement to the Aviation magazine "Canadian Wings", and is a resident of Victoria, B.C. In July 1967 Group Captain Jardine was appointed Aide-de-Camp to His Excellency the Governor General, the !light Honourable Roland Mitchener, and in October of the same year was elected President of the Royal Canadian Air Force Association, Independent to the very end, with Ursula and family close beside him, Alex lived a full and vibrant life. Predeceased by his beloved wife Ann, sisters Marjorie and Theo, Alex is survived by his daughters Marjory and Louisa (Peder), grandchildren Jens and Claire, partner Ursula, sisters June, Ruth and Deirdre, many nieces, nephews and friends all who loved him dearly. From a Bridge Messenger on the RMS Empress of Canada in 1930 to a short service commission in the RAF in 1935, Alex became a flying boat pilot and was posted to 205 Squadron Singapore. The Squadron was in Java in March 1942 when the Allies capitulated and Alex became a prisoner of war of the Japanese. His characteristic courage, determination and leadership served him well through this ordeal. After the war, Alex returned to Canada and joined the RCAF where he commanded stations including Rockcliffe, St. Hubert and Penhold. He attained the rank of Group Captain and served as Canada's Air and Military attache in Prague. After he retired from the RCAF, Alex's life touched so many people through his involvement with organizations such as Project North, Swan Lake Nature Sanctuary, Glendale Gardens, the Mustard Seed, the Arion Male Voice Choir, the RCAF & Air Crew Associations. For many years, his love of sailing, hiking, kayaking, gardening, travelling, singing, reading and painting kept him active. Who else but Alex would hike to Garibaldi Lake at age 77 or go on a llama trek in his 80's? His girls and his grandchildren meant the world to him and he to them. His love and care for his family and friends will be sorely missed we were so lucky to have you, Alex.