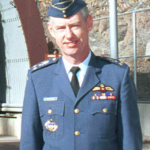 Lieutenant-General (Retired) George Macdonald served in the Canadian Forces for 38 years, culminating in the position of Vice Chief of the Defence Staff from 2001 to 2004, following three years as the Deputy Commander-in-Chief of NORAD.
Initially, LGen Macdonald spent several years as an operational fighter pilot. He commanded at the squadron, base/wing, and air division level. Throughout his career, he held many leadership positions in Ottawa, and has served with NATO forces in Germany and Norway, and with North American Aerospace Defence Command (NORAD) in both Winnipeg and Colorado Springs, Colorado. He also held the position of Director of Operations in the Foreign and Defence Policy Secretariat in the Privy Council Office.
In addition to his broad operational experience, LGen Macdonald has extensive executive-level expertise in military requirements and capability planning, all aspects of defence program management, corporate change management, international security issues, and Canada-U.S. relations (including bilateral security issues, joint planning, NORAD and ballistic missile defence). In his last position as Vice Chief of the Defence Staff, LGen Macdonald was the senior resource manager for DND and was responsible for strategic planning. As the second senior officer in the CF and chief of staff of National Defence Headquarters, he worked closely with both the Deputy Minister and the Chief of the Defence Staff on both resource and operational issues.
LGen Macdonald is a graduate of the University of Calgary and the National Defence College and has an Honorary Doctorate degree from York University. He has participated in executive seminars at Harvard University and with the Canadian School of Public Service and has been
published on several topics, including change leadership, interoperability, capability-based planning knowledge management, and ballistic missile defence.