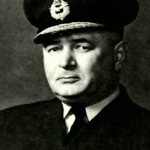 Air Chief Marshal L.S. Breadner, CB, DSC (July 14, 1894 – March 14, 1952). Breadner served as Dominion National President until 25 May 1951. He had helped to conceive of the RCAF Association in 1944, and was there to witness the Order in Council that created the organization in 1948. For more on his career, please visit this Wikipedia link.
---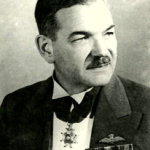 Air Vice Marshal A.L. Morfee, CB, CBE (27 May 1897 – 19 March 1986). For more on Arthur Lawrence Morfee, visit this web-site here. Morfee is believed to be the first pilot operating an aircraft on which a woman gave birth in-flight.
---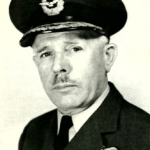 Air Vice Marshal G.E. Brookes, CB, OBE (22 October 1894 – 8 September 1982)
George Eric Brookes (1894-1982)
Introduction
Air Vice Marshal George Brooks, English by birth, was in charge of the Canadian Group within Bomber Command during the period 1942 – 1944. He had been able to establish from abroad and out of nothing at all a complete Group and to prepare it for battle. The British government was very impressed by this achievement and awarded him the Order of the Bath. The chief of Bomber Command, Air Marshal Sir Arthur Harris, however was not satisfied with Brookes and took his command away from him.
Early career
George Eric Brookes was born on 22 October 1894 in Yorkshire. When he was sixteen he emigrated with his parents to Canada. The Brookes family established themselves in the little town of Owen Sound in Southern Ontario. When the First World War broke out a few years later, Brookes enlisted in the Canadian Forces. With the Royal Canadian Medical Corps he left for France in 1914, where he would serve for two years. In 1916 he was offered the chance to be transferred to the Royal Flying Corps, which he accepted. He became a pilot in No. 13 Squadron. One year later however he got wounded, which called the end of the First World War for him. After having recovered from his wounds he enlisted in the United Kingdom with the Royal Air Force which was established after the war. He became a flight instructor. After three years he returned to Canada and enlisted with the Royal Canadian Air Force hoping to be able to make a career. In the following 15 years he occupied various positions within the Canadian Air Force.
The Second World War
At the moment the Second World War broke out, Brookes was engaged in the planning of the Canadian coastal defenses in the HQ Eastern Air Command in Halifax Nova Scotia. At that time he had achieved the rank of Group Captain. In May 1940- he was promoted to the rank of Air Commodore and received the command of No. 1 Training Command in Toronto. Two years later he left for England. Here the Canadian politicians pleaded the case of a special Canadian Group to be established within Bomber Command. The heads of the RAF and Bomber Command, Air Chief Marshal Sir Charles Portal and Air Marshal Sir Arthur Harris had their reserves about this – in their minds – colonial experiment, but finally they did agree. Brookes was appointed on 24 October, 1942, as the head of the to be newly formed No. 6 Group, which became operational on the 1st of January 1943. Brookes had been allocated an enormous task. His new Group contained six airfields and eight squadrons in October 1942. Some of the airfields were under construction at that moment and apart from two of them, his squadrons still operated the in the meantime ageing Wellingtons.
It witnessed an enormous capability of organization that Brookes succeeded to establish an operational Group out of nothing. In the night of 3 to 4 January 1943 No. 427 Squadron flew the first mission of the Canadian Group. Brookes succeeded in modernizing and expanding his Group continuously. The British government thought this an achievement of a great impact and awarded Brookes with the Order of the Bath, for his professionalism at establishing No. 6 Group. Uninterruptedly the Group contributed till 25 April 1945 its support of Bomber Command.
Brookes would not live to see the end of the war in his role of commander of No. 6 Group. Although Brookes had achieved a job of enormous size, Harris was not impressed with his leadership qualities. Harris was especially concerned about the high percentage of bombers of No. 6 Group that returned from a mission before the target had been reached. Brookes himself had proffered this idea by means of a letter to Harris; but he was of the opinion that this was inherent of a unit that had only recently been established. Harris was of a different opinion. According to him this high percentage was due to a low morale as a consequence of mediocre leadership. He thought Brookes to be too much of a fatherly figure instead of the dynamic leaders he liked to see heading his Groups. Brookes and his staff made an effort in the fall of 1943 to decrease the number of early returning aircraft, but with little effect. Crews were to prove with photographs that they were forced to return early and were extensively interrogated about this. The percentage of No. 6 Group in November was only just above the average of the other Groups. For Harris however too little to convince him. He replaced Brookes in February 1944 and appointed Air Vice Marshal Clifford McEwen as the new head of No. 6 Group. Brookes consequently decided to leave the Royal Canadian Air Force in November 1944 and retired.
After the War
After his retirement Brookes played a big part in the expansion of the Royal Canadian Air Cadets. During the war in this organization young men were trained for service in the Royal Canadian Air Force, but after the war it concentrated more on the teaching of citizenship, leadership and fitness in combination with flying lessons. Also Brookes was chairman of the RCAF Association for some time.
George Brookes passed away on September the 8th, 1982, in his place of residence, Toronto. He was 87 years of age.
---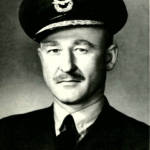 Air Vice Marshal Kenneth MacGregor  Guthrie, CB, CBE, CD
---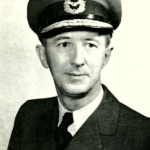 Air Vice Marshal F.G. Wait, CBE, CD
---
National Executive Council:
Air Vice-Marshal F. G. Wait, C.B.E., C.D., a member of the executive council over the past seven years; president, 1958-60, grand president, 1960-62 and chairman. 1962-63.
Leonard N. Baldock, vice-president. 1954-60; president 1960-62; and past-president 1962-63.
John `Andy' Cooper, vice-president, 1961-62-63.
Group Captain S. M. Sznuk, CBE. vice-president, 1956-58, 1958-59; vicechairman, 1959-63; and chairman of special committee on communist ideology.
Elsie Traill (Mrs.), W.D. Representative (Central), 1962-63.
Miss E. L. Frederickson, W.D. Representative (Western), 1962-63.
Group Executive Council
George Cattiny, DFC, president, Quebec group. 1962-63.
William H. Caverly, regional vicepresident, Quinte region, vice-president, Ontario Group; and president, Ontario Group, 1961-63.
Wing Members
Stephen T. Coote, president No. 500 (Winnipeg) Wing, 1959-60, 1962-63; and president, Manitoba N. W. Ontario Group, 1961-62.
Miss Loraine B. Currie, an executive member of 306 (Maple Leaf) Wing. Dyke D'Andrea, secretary 501 (Lake Head) Wing, 1963.
George Ellis, a Charter member of 306 (Maple Leaf) Wing, who served with distinction at Wing, Group and National levels.
James Gillespie. secretary, Ontario Group, 1961-63.
F/L D. Hindson, RCAF Liaison Officer. 1962-63. For his assistance to 503 (Flin Flon) Wing in its formative stages and money raising plans.
Milton Moffat, an executive member of 702 (Lethbridge) Wing, and president, Alberta Group.
---
---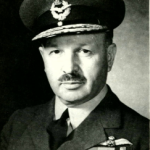 Air Marshal W.A. Curtis, CB, CBE, DSC, ED
---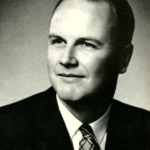 ---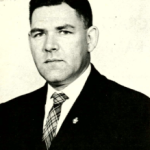 P. F. CONNELL, DFM, the new president of the RCAFA, a native of Saint John, N.B., had an outstanding record during World War II. Completing two tours of operational duty as an air gunner, he was a Charter Member of the Pathfinders Group. Mr. Connell was awarded the Distinguished Flying Medal and commissioned in 1943. Phil returned from overseas in 1944 to take part in the Victory Loan Speaking Tour. A Charter Member of 250 (Saint John) Wing, he has progressively held executive positions at Wing, Group and National levels. He has served as a member of the Saint John City Council and has been a director of several Civic improvement organizations. These credentials bear elegant testimony to his election as National President of the RCAF Association at the 12th Annual Convention. The President's Message DELEGATES to the Twelfth Annual Convention have done me great honour by electing me National President. I am pleased to have this opportunity to express my sincere appreciation for the confidence and trust placed in me. I wish to assure you of my desire to further, at all times, the aims and objectives of the Association. I expect that all members have now been advised as to the outcome of our national meeting in Halifax. This meeting must go down as one of the most successful, in all respects, that we have held to date. Never before has our Association attained such a lofty plane with respect to pagentry and conduct of business. All members of the Association will take pride in the manner in which their affairs were conducted on this occasion. It is my intention that all Wings be provided with a resume of the Halifax meeting so that all our resolutions and other matters of major concern can be communicated to Wing committees and members. The most urgent problem that faces us at the moment is our membership. This was brought to our attention forcibly at Halifax when we learned of the substantial deficit we are budgeting for this year. In order to defray our overhead costs we must boost our membership immediately to 15,000 members and eventually to 20,000 or 25,000 members. I hope that every Wing will make November, which is proclaimed as Membership Month, a success and a preliminary step to strengthening the fibre of our organization. It is a source of great pride to every member of our Association to hear, and see, the continuing activities of our Wings and Groups. Every phase of community endeavour is covered: sponsorship of Air Cadet Squadrons, foster children programmes, bon voyage and to many other projects so essential to our success as an Association. I commend you all for your interest and concern in these worthwhile community affairs. On behalf of all members of the National Executive Council, I wish to pledge to you all that sincere and earnest efforts will be directed to the conduct of the affairs of our Association during the coming year. CONNELL, PHILIP F. – The death of Philip Frederick Connell, DFM of Saint John, husband of Mary Kathleen (Daley) Connell, occurred on Sunday, February 11, 2007 at the Saint John Regional Hospital. Born in Saint John on July 7, 1923, he was the son of the late George and Jean (Alexander) Connell. Mr. Connell was a veteran of World War II, serving with the Bomber Command 83 Squadron of the R.C.A.F. He was a founding member of the Path Finder Force in 1942 and was wounded in action in 1943. He received the Distinguished Flying Medal (DFM) from King George VI at Buckingham Palace on February 29, 1944. In 1945 Philip joined F.J. Brennan Co. Ltd. Investment Finance, from where he began his long career as an Investment banker working with Nesbitt Thompson in various capacities, retiring as President in 1995 from McDermid Miller McDermid. Mr. Connell was National President of the R.C.A.F. Association, past member of Saint John City Council, past manager of Saint John Board of Trade, allied member of the New York Stock Exchange and member of the Vancouver Stock Exchange. He worked with the Founding Committee of UNBSJ, the Saint John Harbour Bridge Authority, Halifax/Dartmouth Bridge Authority, Quebec Hydro, the Province of New Brunswick, Alberta Telephone the City of Edmonton and assisted in founding the BC Municipal Finance Authority. Besides his wife, he is survived by his seven children, Mary Kathleen Ablett (Richard) of Ottawa, ON, Colleen Ablett (David) of Toronto, ON, Michael Connell of Halifax, NS, Susan Witiuk (James) of Winnipeg, MN, Anne Yatkowsky (Lawrence) of Vancouver, BC, Mary Raper of Peterborough, ON and Ellen Connell (Peter Johnson) of Victoria, BC, two sisters, Noreen Bennett of Montreal, QC and Eileen Duffley of Saint John, 20 grandchildren, 17 great grandchildren, several nieces and nephews. He was predeceased by son-in-law, Douglas Raper, brother, Raymond, sister, Jean Cooke and an infant sister, Mary. Resting at Brenan's Select Community Funeral Home, 111 Paradise Row, Saint John (634-7424), with visiting on Sunday 2-4 and 7-9 p.m. Mass of Christian Burial will be celebrated at St. Peter's Church, Clarendon Street, Saint John on Monday, February 19, 2007 at 11:00 a.m. Interment in St. Joseph's Cemetery. Remembrances to the Poppy Fund, Alzheimer's Research or the charity of the donors' choice would be appreciated. The Royal Canadian Legion will hold a tribute to a Veteran service on Sunday evening at 7:00 p.m. at the funeral home. www.brenansfh.com
---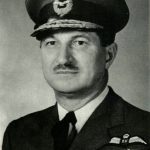 Air Marshal Hugh C. Campbell, CBE, CD
---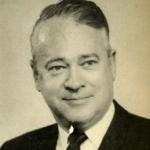 George Penfold. George E. Penfold, of 26 Moccasin Trail, Don Mills, Ont., a member and charter president of No. 437 York Wing, Toronto, was elected president of the association for the 1964-65 year. He has been a vice president of the National Executive Council since 1962 and has participated actively in association work since he joined the association in 1951 as member of 404 Kitchener-Waterloo Wing. Prior to helping found No.437 York Wing in Toronto he was a member for a short while of No. 412 Wing in Windsor, Ontario. During the war George served in the RCAF, having enlisted in 1942 and served as an observer on Coastal Command and in India with No. 435 Squadron which was engaged in trans­port activities, which unit he was with until the end of the war. During his very active career since joining the association in 1951 he has held the following additional offices: Secretary of the Ontario Group Exe­cutive, 1955; vice president, Ontario Group, 1956; president, Ontario Group, 1957-59; membership chairman, National Executive Council, 1957-58 and 1961-62; chairman, National Executive Council 1959-61; vice president, National Execuitve Council, 1961-62; vice president, National Executive Council, 1962-64. George has also been a member of the Ontario Provincial Committee of the Air Cadet League of Canada. His business career for many years has been with Household Finance Corp., Toronto, with whom he is a merchant representative.
---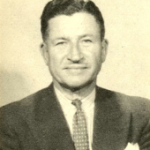 George Ault
---
1965-66 National Executive Council
Grand President: A/M W. A. Curtis, CB, CBE, DSC, Toronto. Ont.
National President: George A. Ault, QC, Ottawa, Ont.
Vice-president: Herbert M. Bell, Winnipeg, Man.
Director I-yr: Stanley H. Wootten, Winnipeg, Man.
Director I-yr: F. A. Connolly, Fredericton, N.B.
Director I-yr: A. T. Goodwin, Moncton, N.B.
Director 2-yrs: G/C A. M. Jardine, AFC, CB, Victoria. B.C.
Director 2-yrs: W. H. Caverly, Kingston, Ont.
WD Representative: Mrs. Norma Berry, Toronto, Ont.
Immediate Past President: George E. Penfold, Don Mills, Ont.
Director, Atlantic Group: W. D. Young, Summerside, P.E.I.
Director, Quebec Group: A. L. Hilton, Montreal, Que.
Director, Ontario Group: Thomas G. Farmer, North Bay, Ont.
Director, Ontario Group: Robert Ross Mills, Waterloo, Ont.
Director, Man.-N. W. Ont. Group: Arthur D. McLeod, Brandon. Man.
Director, Sask. Group: F. W. Jardine, Moose Jaw, Sask.
Director, Alberta Group: J. F. Way, Calgary, Alta.
Director, B. C. Group: F. S. Porter, Victoria, B.C.
Honorary Chaplain (P): The Rt. Rev. I.A. Norris, DD, Brandon, Man.
Honorary Chaplain (RC): The Most Rev. Bishop N. S. Gallagher, DD, CD, Ottawa, Ont.
---
---
---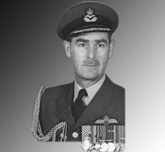 JARDINE, Alexander Myles Group Captain AFC, CD, (RCAF Ret'd) March 16, 1914 December 14, 2008. Independent to the very end, with Ursula and family close beside him, Alex lived a full and vibrant life. Predeceased by his beloved wife Ann, sisters Marjorie and Theo, Alex is survived by his daughters Marjory and Louisa (Peder), grandchildren Jens and Claire, partner Ursula, sisters June, Ruth and Deirdre, many nieces, nephews and friends all who loved him dearly. From a Bridge Messenger on the RMS Empress of Canada in 1930 to a short service commission in the RAF in 1935, Alex became a flying boat pilot and was posted to 205 Squadron Singapore. The Squadron was in Java in March 1942 when the Allies capitulated and Alex became a prisoner of war of the Japanese. His characteristic courage, determination and leadership served him well through this ordeal. After the war, Alex returned to Canada and joined the RCAF where he commanded stations including Rockcliffe, St. Hubert and Penhold. He attained the rank of Group Captain and served as Canada's Air and Military attache in Prague. After he retired from the RCAF, Alex's life touched so many people through his involvement with organizations such as Project North, Swan Lake Nature Sanctuary, Glendale Gardens, the Mustard Seed, the Arion Male Voice Choir, the RCAF & Air Crew Associations. For many years, his love of sailing, hiking, kayaking, gardening, travelling, singing, reading and painting kept him active. Who else but Alex would hike to Garibaldi Lake at age 77 or go on a llama trek in his 80's? His girls and his grandchildren meant the world to him and he to them. His love and care for his family and friends will be sorely missed we were so lucky to have you, Alex. In lieu of flowers, donations in Alex's memory may be made to the Mustard Seed Street Church and Food Bank, 625 Queens Ave., Victoria, BC V8T 1L9 or to a charity of your choice. Memorial service to be held Sunday, December 28th, 2 pm at St. Michael and All Angels Church, 4733 West Saanich Road, Victoria, B.C. 518211
Patron
Her Majesty the Queen
Honorary Grand President
His Excellency the Right
Honarable Roland Michener, CC,CD.
Grand President
Air Marshal Hugh Campbell, CBE, CD,
B.Sc., LL.D.
National President
A. T. Goodwin
Vice President
Frederic D. Way
Immediate Past President
A. M. Jardine, AFC, CD, ADC, ARAeS.
Directors
S. H. Wootten-Winnipeg
T. G. Farmer-North Bay
E. L. Sayle-Ottawa
W. A. Gryba-Ottawa
J. M. Wilson-Fredericton
Legal Adviser
G. A. Ault, QC
W.D. Representative
Mrs. Jean Clifford-Ancaster, Ontario
Group Directors
Tom James-Atlantic Group
W. T. Kelly-Quebec Group
R. W. Henry-Ontario Group
G. W. Ruland-Ontario Group
A. J. Skene-Manitoba Group
W. Hogg-Saskatchewan Group
L. E. Larcombe-Alberta Group
W. L. Stevenson-B.C. Group
Honorary Chaplains
The Venerable E. S. Light, CD, (Prot)
Toronto
The Most Reverend N. S. Gallagher,
DD,CD, (RC) Montreal
Gen. Manager
Frank W. Ball, DFC, CD.
---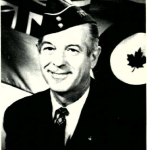 ---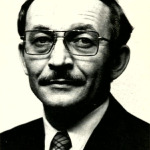 ---
---
---
---
---
---
---
---
---
---
---
---
---
---
---
---
S/L (RET.) A.S. LOGAN DFC, CD.
Albert Stewart "Spoof" Logan passed away on January 6, 2008, in his 84th year. The son of Albert Fraser and Belinda Logan of Pictou County, he was born on November 18, 1924, in the family home in Lyons Brook. After graduating from Pictou Academy in 1942 Stewart enlisted in the Royal Canadian Air Force and trained as a navigator. On completion of training he went overseas and flew on Mosquito bombers with 142 Squadron of the Royal Air Force. He completed thirty-nine missions over Germany and was awarded the Distinguished Flying Cross. He re-enlisted in 1948 and flew with Royal Canadian Air Force 426 Transport Squadron for four years which included two years in the Korean airlift. After a short stint as the Commanding Officer of the RCAF Recruiting Unit in Halifax, he trained as an Airborne Interception Navigator and was for five years the Chief Instructor of the Airborne Interception School in Winnipeg. In 1959 he attended the RCAF Telecommunications Officer course and spent two years in Greenwood, Nova Scotia. In 1962 he was promoted to Squadron Leader and was sent to Summerside, P.E.I. where he was the Station Telecommunications Officer. In 1964 he was assigned to the Canadian Embassy in Washington and served on the staff of the Air Attaché. Squadron Leader Logan retired from the service in 1969. After retirement he was employed as President and General Manager of Spartan Electronics in London, Ontario. In 1977 Stewart returned home to Nova Scotia when he became Director of Marketing for Hermes Electronics in Dartmouth.
In 1951, while stationed at McCord Air force Base in Tacoma, Washington, he met Lieutenant Jean Anne Sullivan, a nurse in the United States Air Force. The couple were married in the base chapel on September 7, 1951. Their romance lasted for almost fifty years and they provided each other with the strength to overcome life's many challenges. They raised seven children together and loved each one unconditionally, and Stewart's love for Jean and his family continued until his death.
When Stewart retired from Hermes he and Jean returned to the family home in Lyons Brook. An active member of the community, he served regularly on the local school and health boards, and was a long-time volunteer for the local Help Line. Stewart was always willing to lend his tireless support to any cause that needed it.
For many years Stewart served in various capacities at the local and national level of the Air Force Association of Canada and was elected National President of the Association in 1996. He was also a proud member of the Royal Canadian Legion in Pictou, serving as its treasurer.
Stewart lived with strong convictions and tremendous integrity, but had a wonderful sense of humour and was always able to laugh at himself. He will be deeply missed by his children and grandchildren, and by the countless friends made over the course of a long, honourable life.
Surviving are children, Stewart, Jr. (Denise), Qatar; Mary Anne (Stephen) Mesjarik, London, Ontario; James (Amanda Reagh), Lyons Brook; John David, Victoria, British Columbia; Gerald (Tara), Toronto; Christopher (Christine), Victoria, B.C.; daughter-in-law, Marie Claude Logan, France; nine grandchildren. Stewart was predeceased by his wife, Jean Ann; son, Michael; sisters, Jean Bell, and Marguerite Sweeney. Cremation has taken place. Visitation will be held 2-4, & 7-9 PM on Monday in McLaren Funeral Home, Pictou.
---
---
---
---
---
---
---
---
Don Mcleod 2003 – 2005
---
Ted Mahood 2005 – 2007
---
John Melbourne 2007 – 2009
---
Brian Darling, CD 2009 – 2011
---
Terry Chester joined the RCAF in Sept 1964 through the ROTP program, receiving a BA from the U of Sask. He was awarded Navigator/RO Wings in 1968 flying for 3,000 hrs on the Argus Maritime patrol aircraft out of Summerside PEI. In 1972, Terry received his CF pilot?s wings in Cold Lake, AB and spent the next 8 years flying and instructing on the CP 107 Argus in Summerside, PEI and the O.T.U. in Greenwood, NS.? He was part of the CP 140 Aurora Team in 1980, that introduced the CP 140 to the CF as the Senior Flight Deck Instructor. ?Following Staff College in 1982, he spent several years in various staff positions years in Ottawa, and then was assigned as the Senior Staff officer for Pilot Training in Air Command, before command of 407 Maritime Patrol Squadron in Comox in July, 1990 Terry was then posted back to Ottawa in 1992, to work directly for the VCDS in the Executive Secretariat as an analyst, and was seconded to Mogadishu, Somalia for six months as the senior airlift control officer, responsible for the movement of millions of pounds of relief supples in spartan and hostile conditions. On return to Canada in 1993, he was appointed as the Senior Peacekeeping Plans officer, organizing and planning peacekeeping missions in Africa and South America, for two years. In 1994, he was posted to the Career Manager Division in NDHQ, responsible for all air force ranks below Colonel, some 18,000 people. In 1997, Colonel Chester was posted to NATO Air Base, Geilenkirchen Germany as the Commander Operations Wing, Chief Pilot on the AWACS aircraft and the Canadian Component Commander for four years, and had the opportunity to participate in numerous international operations, including the air war in Kosovo. He enrolled in the Primary Reserves in 2001 and spent four years as a special projects staff officer and consultant on air matters.? He was the Director of Armed Forces Day 2005 at 19 Wing Comox, was also engaged in Transformation projects for 1 Cdn Air Div. With a career spanning 42 years, some 10,000 flying hours and multi-command tours, he remained active in flying, maintaining a Transport Canada Flight Commercial pilot Qualification, instructing air cadets in the summer. He is a director at the Comox Air Force Museum and a board member of several community associations. He is married to Barbara Jean MacDonald of Port Borden PEI; their daughter Tara, is married to a USAF airman stationed at Luke AFB, CA, and their son, Jeff is a pilot in the CF. Terry & Barb have four grandsons, all of whom will aspire to careers in the air force.
---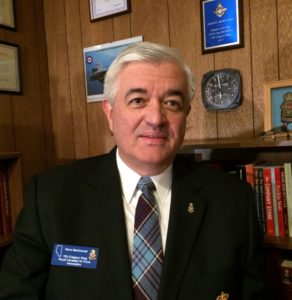 2016 – 2020
Stephen K. MacDonnell, P.Eng., MCSCE
Steve MacDonnell was installed as the National President of the Royal Canadian Air Force Association at the association's annual general meeting in London, ON, in October, 2016.
Steve is a native of Sydney N.S and long-time resident of Calgary, AB. As a youth he was a member of the Royal Canadian Air Cadet program proudly attaining his power flight wings and the position of squadron warrant officer with 693 Squadron. He served a decade in the Canadian Forces Reserve and the Cadet Instructors Cadre receiving his commission in 1978. He has been a member of the RCAF Association for almost 40 years. Over the past 25 years he has served in executive positions at all three levels of the association save for three years in the early 1990s when back in uniform commanding 538 Squadron, RCAirC. This is his second time serving on the National Executive Committee. He is a recipient of the association's Meritorious Service Award and Queen Elizabeth II Diamond Jubilee Medal for his work with the association.
Steve holds degrees in science and engineering from Dalhousie University. He later continued his graduate engineering studies at the University of Calgary where he also completed their program in professional management. He is a graduate of the Banff Centre's program in executive leadership. Registered as a professional engineer in 1983, he has held technical and senior leadership positions in the natural resources, consulting and energy industries. He has worked on and led both domestic and international projects on all continents except Antarctica. He has also served on design code committees with the Canadian Council of Ministers of the Environment and the Canadian Standards Association.
Steve began his professional career in Halifax as a project engineer with Acres International Ltd. He was transferred to Calgary in 1981 and later joined Shell Canada Limited working on projects for Shell and its subsidiaries throughout the country. He founded Shieling Technologies in 1991 providing consulting services in environmental planning, facilities engineering and risk management and later worked with organizations such as UMA, Devon Canada and GKX Corporation. Although attempting a move into semi-retirement he remains active with a professional partnership working in specialized project management, regulatory affairs and land development.
He is a former executive of the Dalhousie University Alumni Association, volunteer with the Canadian Cancer Society and a member of several professional, service, military, cultural and aviation organizations including the Canadian Owners' and Pilots' Association where he is a Silver Club member, the Royal Alberta United Services Institute, the Air Force Museum Society of Alberta and the Royal Canadian Legion, Within the association he is a Past President of 783 (Calgary) Wing as well as Alberta Group. Steve is an Honorary Member of 410 Tactical Fighter (Operational Training) Squadron. He actively promotes the air force, air cadets and aviation wherever he can in his business and community involvement.
A commercially rated pilot, he enjoys getting into the air as often as possible. In his down time he also enjoys skiing, sailing, kayaking, travelling, history and music. He resides in Calgary with his wife Jane and their two children. The family's annual highlight is to spend time each summer by the ocean in Nova Scotia.
---