The following paid content from Boeing Canada can also be found in Revue Airforce Magazine Vol 44 No 2, published 30 September 2020 (pp.60-61). The views expressed are exclusively those of the author Brigadier-General (Ret) Charles S. "Duff" Sullivan – Managing Director Boeing Canada
Block III Super Hornet – Canada's Next Generation Fighter Capability for the 21st-Century
As a former CF-18 fighter pilot and NATO Air Component Commander, I've tried to stay knowledgeable on fighter aircraft competing to replace Canada's legacy Hornets. Until recently, I thought I was relatively well-informed. However, the deep-dive analysis carried out during my first month on the job as Managing Director of Boeing Canada has revealed astonishing findings.
While the technology and capabilities available on any competing fighter is remarkable, there is a big difference between what capabilities might be offered and what is needed by Canadian forces. For the benefit of my fellow pilots, defense industry colleagues and airplane enthusiasts, I am opening my proverbial pilot's notebook and sharing my opinion and what I've discovered.
Diminishing Returns on Stealth
Air power experts agree that modern-day and future fighters must be "low-observable," of which radar stealth is a component. This stealth requirement applies to the aircraft in the Future Fighter Capability Project (FFCP) competition. Radar stealth increases survivability when going against Integrated Air Defence Systems (IADS) and other fighters that use active radar technology to track and target aircraft. Older legacy IADS are prolific and employed by countries world-wide, as witnessed during coalition operations around the world. However, new and emerging IADs such as the Russian S-500 now use new technology to track and target traditionally 'stealthy' aircraft, limiting the effectiveness of fifth-generation "radar stealth" technology.
With its long-range Infrared Search and Track (IRST) and network-enabled targeting capability, the Block III Super Hornet is able to track and target adversary aircraft without active radar technology. It is possible for stealth fighters to be targeted at long range, outside of Active Electronically Scanned Array, or AESA, radar ranges using passive-sensor technology. Radar stealth was sufficient to increase survivability when going against older IADS, the Block III Super Hornet  can effectively defeat enemy IADS, both old and new, using a combination of the right amount of stealth, advanced next-generation electronic warfare, networked sensors and targeting, as well as advanced weapons.
Long Term U.S. Navy Commitment
The Block III Super Hornet will be the U.S. Navy's (USN) predominant strike fighter for its "global power projection" all-domain air-dominance capability for decades to come. The USN ordered 78 new Block III fighters and will convert 450 Block II Super Hornets to Block III capability through a Service Life Modification (SLM) program. The USN received its first two Block III test jets in June 2020 with the remainder scheduled for delivery through the mid-2030s.
The production line for the Super Hornet and Growler will continue to support USN requirements, and other Block III customers including Kuwait and Germany – who recently announced their intent to move forward with adding Super Hornets and Growlers to their force structure. There is also an additional 400+ aircraft opportunity with on-going competitions in Finland, Switzerland, India, Canada and more. Clearly, there is strong and continued interest in the platform. As there is no planned retirement for the Block III, the USN has planned several modernization and upgrade programs for its Block III fleets, which will ensure these jets will continue to out-pace and out-perform all adversaries and competitors.
A Truly Next-Generation Platform
The USN selected the Block III fighter for good reason. It is a next-generation fighter aircraft with a multi-spectrum network-enabled targeting capability that can target adversaries beyond the range of modern-day AESA radar systems. The Block III now has "first-look, first shot" advantage at long range, which means fifth-generation threat aircraft can be targeted beyond traditional fifth-generation radar ranges. The strike capability of the Block III is also unmatched. Able to operate in hostile territory untargeted, the network-enabled stand-off targeting capability, combined with advanced network enabled weapons, allows the Block III to strike surface threats with impunity.
The foundation behind the Block III's next-gen network and sensor fusion capabilities is the Common Tactical Picture (CTP). This network-enabled CTP uses data and information from surface, land-based, air and space-based sensors to present a common operating picture of the entire battle space on its new Advanced Cockpit System – a 10 x 19 inch touchscreen display. This is enabled through the Block III's new targeting processor, which has 17 times the capacity of Block II and other modern-day fifth-generation systems, and integrates with the CTP through secure SATCOM, advanced Tactical Targeting Network Technology, and Link-16 communications.
Through network-enabled data-fusion and its advanced capabilities, the Block III becomes the airborne leader to direct and coordinate the prosecution of air and surface targets providing complete interoperability with coalition forces.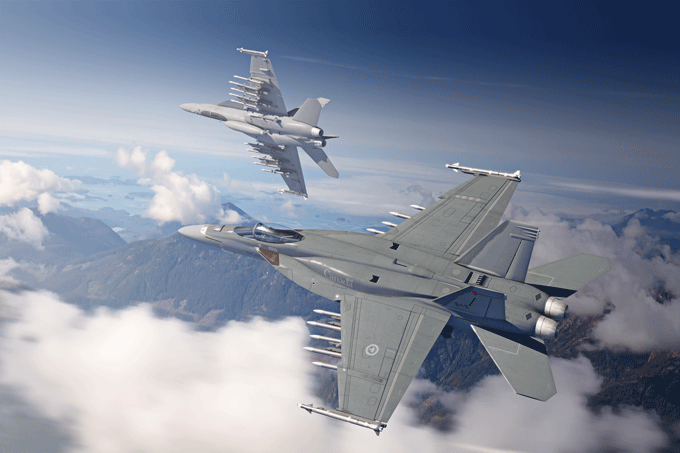 Canada's Defence Missions
While serving in Europe during the Cold War, I flew missions over most European countries. Quite different from flying in Canada, I was seldom more than a few minutes away from an airport or landing strip, even when flying along NATO's northern flank. For more than 40 years, several European countries have successfully employed the single-engine F-16 fighter. Understandably, these same countries would find the single-engine F-35 a suitable follow-on fighter. While the UK, Australia, Israel and the U.S. Air Force have also acquired the F-35, they have other fighters in their "mixed-fleet" force structure to cover the capability gaps of single-fleet fifth-generation fighters. Fortunately for Canada, the next-gen capabilities of the Block III are ideally suited to champion all of Canada's military missions, at home and abroad, with no capability gaps.
Canada's military missions and capabilities are derived from Canadian foreign and defence policy objectives. It is not unusual for like-minded allied nations to have different defence policy objectives, which would result in different military missions and capabilities. For example, the operational imperatives of Canada's homeland defence mission are far different than those of European countries, South Korea, Japan or Australia. With the second largest land mass in the world and a set of non-discretionary military missions that include domestic security and air policing, air sovereignty missions across Canada's high Arctic, and homeland and continental defence, Canada's non-discretionary missions are uniquely Canadian and represent far greater challenges.
European countries who have selected the F-35 as their front-line fighter have areas of responsibility (AORs) significantly smaller and far more hospitable than Canada. For the same reasons, Japan and South Korea have also found the F-35 to be a suitable fighter aircraft. Small AORs are less demanding with respect to response time, range and endurance, and allow fifth-generation aircraft to fly in a clean configuration, thereby taking advantage of stealth. Perhaps if Canada was the size of Vancouver Island, the F-35 might be a contender to replace our current fleet of CF-18 fighter aircraft.
Flying continental defence and air sovereignty missions 800 miles north of the Arctic Circle in the dead of winter with the nearest ice-covered landing strip hundreds of miles away demands a robust two-engine fighter with superior range, endurance, payload and reliability. As I previously wrote in my 2014 op-ed in The Globe and Mail, losing an engine in a twin-engine fighter is a non-event, even in the Arctic. An engine failure in a single-engine fighter is catastrophic.
With an affinity for the F-35 that dates back to 2007, the Royal Canadian Air Force (RCAF) fighter community regards the Super Hornet as an upgraded legacy Hornet, a mindset that has prevented the RCAF from learning about the true next-generation attributes of the Block III. I hope that over the coming months, Boeing will have the opportunity to demonstrate these capabilities first-hand.
Operating Costs
A worrying realization for many FFCP observers has been the in-service support and sustainment costs associated with new fighter aircraft. Data from the U.S. Government shows that the Super Hornet has the lowest operational flight cost among current U.S.-built fighters at just over US$18,000 per flight hour. The cost per flight hour for the other U.S. platform is more than double the Block III, according to the same U.S. Government data, which translates into tens of billions of dollars added to in-service support and sustainment budgets over the life of the program.
There is no doubt that this severe fiscal liability would threaten defence programs across other environmental commands. Soaring operating costs have plagued the F-35 program from the beginning, which, as we see currently playing out in the Netherlands and UK, will hurt their respective budgets and capabilities.
It's also important to note, that a fleet of 88 Block III Super Hornets will allow the RCAF to leverage existing physical and intellectual infrastructure – established through the CF-18 program – significantly reducing training requirements and related costs.
Return on Investment
Beyond the superior capabilities of its jet, Boeing will make a massive investment into Canadian industry when the Super Hornet Block III is selected. Not only will Canada receive more capability for its defence dollar, the 101-year Boeing-Canada aerospace partnership will see a new level of economic growth and prosperity.
In the weeks since joining Boeing, I have studied and analyzed the competition, as well as the RCAF requirements. It's clear that the Super Hornet is exactly the right fighter for all its operational commitments and mission requirements. Add to that the enormous benefits that Canada will receive from Boeing's unmatched industry commitment and you've got a true win for Canada.