Robert Douglas "Doug" Curtis, DFC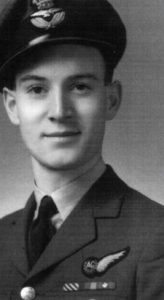 "Always, always, always wake up each day with a purpose."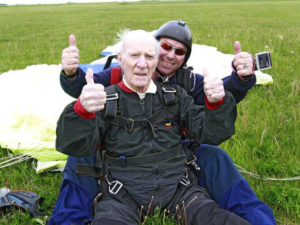 Robert Douglas (Doug) Curtis, DFC, passed away on January 18, 2017, at the age of 94.  He was pre-deceased by his beloved wife of 65 years, Joan Curtis, who passed away in April 2014.  Doug leaves behind four children, Jeff Curtis, Brenda Petkau, Andy Curtis and Michelle Schaufert, grand-daughters Melissa, Kimberly, Arielle, great grand-son Liam, and many extended family and friends.  Doug will be sadly missed by everyone who knew and loved him.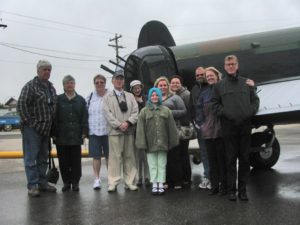 Doug Curtis, DFC, with family at the Nanton, Alberta Bomber Command Museum
Dad/Grandpa was born in an Okanagan farmhouse near the Salmon River in the interior of B.C.   He went to school in a one-room schoolhouse and got up to a lot of harmless mischief with his pals.  In February 1941, Doug joined the Royal Canadian Air Force.  He trained in Claresholm, Alberta and also at No. 3 Bombing and Gunnery School at Macdonald, Manitoba.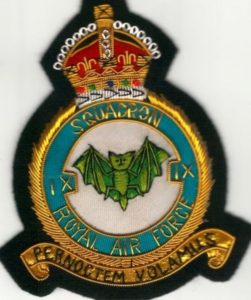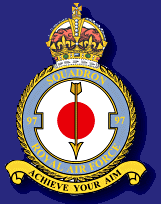 In June, 1943, he was posted overseas and began serving as a Lancaster rear gunner with No. 9 Squadron RAF, later serving with No. 97 Squadron. To learn more about 9 Squadron, visit this website here. To learn more about 97 Squadron, please visit this website here.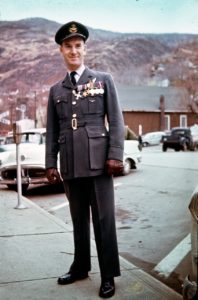 Doug and five of his crewmates survived 49 flying Operations – twelve operations flying as a main force bomber and 37 PFF, or Pathfinder operations.  The fact that any crew survived a Tour of thirty Operations was statistically amazing when the average crew in the main force of Bomber Command during 1943 had a life expectancy of 5 Operations or a one in six chance of completing a tour. A total of 55,573 crewmembers perished, in bomber command, during the Second World War. The fact that he had made it through in one piece was something he never took for granted.
Doug's father, Robert Curtis, was 22 when he joined the Army infantry in WWI and fought at Somme and Ypres. Doug's father never spoke about the war and Doug never asked.  After his father passed away, Doug regretted never having asked him about his experiences.  Doug decided then that his kids should know about his time in the Air Force and what he experienced.  He put it all on paper when he wrote a 150 page memoir for his kids.  In his memoir, he wrote about flying at 20,000 feet in an open canopy, with temperatures dropping to -55F and ice clogging your oxygen mask.  He wanted his kids to know that a tail gunner couldn't wear his parachute in the too cramped gun turret, but instead had to hang it on a hook outside the canopy door.  If you needed to bail out you hoped you could open the door, grab for the parachute, strap it on and then jump from that open canopy.  During one flight over Berlin, his crew's bomber was discovered by a radar-controlled search light.  "We were coned" said Doug.  "Once one light finds you, a bunch of them follow."  Scottish pilot Jimmy Billing decided the best way to combat this was to dive straight down towards the light.  The Lancaster Bomber reached speeds in excess of 400 miles per hour until Jimmy managed to pull it out of the dive.  "We had managed to survive and we returned home safely.  I will never forget that night."
Doug's memoir tells of one particularly catastrophic trip on December 16, 1943.  He wrote about it in an article published in the Airforce Magazine in the winter of 1998 entitled "A Very Black Thursday".  Over 127 were killed and 32 planes were lost as fog hampered their landings after a Berlin Op.  Doug described it as his most "hair raising" Op of the war.
For more on Black Thursday, visit this web-site here.
Doug also described what it was like being an 18-year-old in those days. He wrote fondly about his friends and the everlasting bonds he formed with his crew- Bud, Jock, Tommy, Jimmy, Mort, Oz, Coates. His memories of those formative times remained indelibly vivid.
Warrant Officer Robert Douglas Curtis was awarded the Distinguished Flying Cross for his "great gallantry in the performance of his duty with No. 97 Squadron."  It was presented to him in November, 1945, by the Lieutenant Governor of B.C. after he had returned home from overseas.
Doug returned home to Trail BC in the spring of 1945, where he attended college and got a job with Cominco in the purchasing department. His working life took he, Mom, and us kids from Trail to Fernie, Vancouver, Yellowknife, and finally Calgary, where he worked for Montreal Engineering and Mom worked for the Provincial Government Land Department.  After a brief detour back to Cominco for a 2 year project in the N.W.T., Dad retired and he and Mom moved to Qualicum, B.C., and at last Nanaimo. They enjoyed Piper's Lagoon, Neck Point, Rathtrevor Beach and Buttertub's Marsh.   It was a good retirement.  He and Mom were happy.  Dad did his best through the years of Mom's Alzheimer's.  One of the last things he said to our beautiful Mom was, "See. I told you I'd look after you."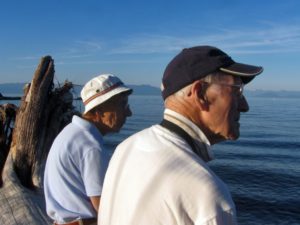 Doug Curtis, with his wife, Joan.
Because he always did – he looked after all of us.
At one of the last Air Gunners reunion's in 2009, held at the Bomber Command Museum in Nanton, around 400 vets gathered with their families to be honored.   On each dining table there were lyric sheets to wartime songs for the evening's sing-along. Not one of the vets or their spouses needed them. They all sang like they were 20.
Dad went to the cenotaph every year, sometimes in the pouring rain, and then to the Legion afterwards for a beer.   In 2016 he spoke at a high school on Remembrance Day- lest we forget.
Andy once asked him how to he contented himself with growing old, with loss and mortality.  Dad said it was important for him to always wake with a purpose.   He learned to use a computer  (always trying to stay current and in contact, plus it gave him something to swear at).  He took a cruise up the Rhine River (a trip he and Mom had dreamed about).  At age 94, there was an ill-advised solo drive to "the four corners of B.C." (he ran out of gas, slept in a stranger's RV, got lost to the tune of around 500km, ended up in the N.W.T (twice) – it's a long story).  He flew on one of the remaining operational Lancaster's.   Doug had survived 49 trips during the Second World War as an air force tail gunner without ever having to eject from his aircraft.  To celebrate his 94th birthday, he finally realized a life-long dream by jumping out of a perfectly good airplane!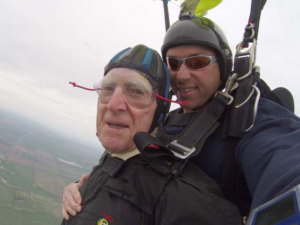 When asked why he stated simply, "It has been nagging at me for a long time".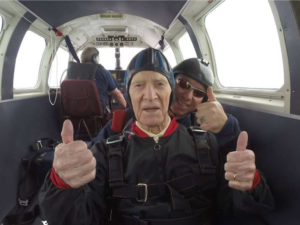 It made all the papers. Heck it made the internet, which gave Dad a bit of a chuckle!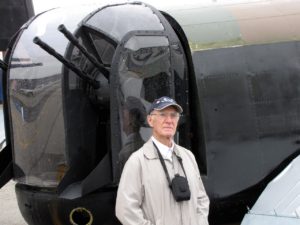 Doug lived all of his 94 years with passion and adventure. He had a sharp lively mind, a playful sense of humour, few complaints and a lot of wonderful stories to tell. He was a good man and he and Mom were always there for us. Their loss is profound but they will forever be in our hearts. Mom, Dad we love you always.
Doug was the last surviving member of his crew.  As his family, we want to keep the memories of him and others like him alive.  "We shall remember them."
A brief description of Robert Douglas Curtis' flying operations follows below, along with the citation for his Distinguished Flying Cross:
CURTIS, WO Robert Douglas (R92557) – Distinguished Flying Cross – No.97 Squadron – Award effective 19 June 1944 as per London Gazette dated 27 June 1944 and AFRO 1861/44 dated 25 August 1944. Born June 1922 in Salmon River, British Columbia; home in Trail, British Columbia; enlisted Calgary 13 February 1941 and posted to No.2 Manning Depot. To No.4 Training Command, 28 March 1941; to No.36 SFTS for guard duty, 28 March 1941; to No.2 ITS, 3 May 1941; graduated and promoted LAC on 7 June 1941; posted that date to No.18 EFTS; to No.15 SFTS, 16 July 1941; ceased training 3 October 1941. To \"H\", 19 January 1942. Posted to No.3 BGS, 20 June 1942 (graduated 31 July 1942 and promoted Sergeant). Served in Western Air Command for a time before posting overseas. Commissioned 22 July 1944 (J88867). Promoted Flying Officer, 22 January 1945. Award presented 27 November 1948. In RCAF Auxiliary, No.5 Air Division as an Education Officer, 10 September 1952 to 15 November 1962 (home in Trail). No citation other than \"completed…many successful operations against the enemy in which [he has] displayed high skill, fortitude and devotion to duty.\" Public Records Office Air 2/8780 has recommendation dated 18 March 1944 when he had flown 38 sorties (197 hours), including thirteen with an unidentified unit prior to joining No.97 Squadron. Sortie list identical to that of P/O James B. Findlay (although for some reason Findlay\'s form states he had flown more operational hours) Pre-No.97 Squadron 21 Jue 1943 – Krefeld (4.45) 24 Jue 1943 – Elberfeld (5.40) 28 Jue 1943 – Cologne (5.00) 3 July 1943 – Cologne (5.45) 8 July 1943 – Cologne (3.50) 27 July 1943 – Hamburg (5.05) 29 July 1943 – Hamburg (5.05) 30 July 1943 – Remscheid (4.30) 2 August 1943 – Hamburg (4.45) 9 August 1943 – Mannheim (5.50) 12 August 1943 – Milan (8.00) 17 August 1943 – Peenemunde (6.50) 23 August 1943 – Berlin (7.10) No.97 Squadron 22 September 1943 – Oldenburg (4.35) 23 September 1943 – Mannheim (6.00) 1 October 1943 – Hagen (4.30) 2 October 1943 – Munich (7.50) 4 October 1943 – Frankfurt (5.20) 9 October 1943 – Hanover (4.55) 18 October 1943 – Hanover (4.50) 20 October 1943 – Leipzig (6.45) 22 October 1943 – Kassel (5.35) 10 November 1943 – Modane (6.35) 11 November 1943 – Cannes (7.40) 17 November 1943 – Mannheim (5.35) 22 November 1943 – Berlin (5.45) 27 November 1943 – Berlin (6.30) 10 December 1943 – Berlin (6.40) 20 December 1943 – Frankfurt (4.20) 23 December 1943 – Berlin (6.30) 14 January 1944 – Brunswick (5.00) 21 January 1944 – Magdeburg (6.20) 27 January 1944 – Berlin (6.45) 15 February 1944 – Berlin (6.45) 19 February 1944 – Leipzig (6.10) 20 February 1944 – Stuttgart (5.55) 27 February 1944 – Schweinfurt (6.55) 15 March 1944 – Stuttgart (6.40)
Warrant Officer Curtis has completed 38 successful sorties against enemy targets, 25 of them in the Pathfinder Force, of which 24 have been marker sorties.
He is the mid-upper gunner of a crew which have many very successful sorties to their credit, and who have been attacked several times by enemy aircraft but have always successfully pressed home their attacks, frequently in the face of the heaviest opposition.
There is no doubt that Warrant Officer Curtis\'s vigilance and coolness under fire have, on more than one occasion, been the means of enabling his crew to reach the peak of efficiency which they have now attained.
The RCAF Association is pleased to provide family and loved ones webspace by which they can share their fondest memories in memory of those who served their country so proudly. Contact director (at) airforce.ca for more information.