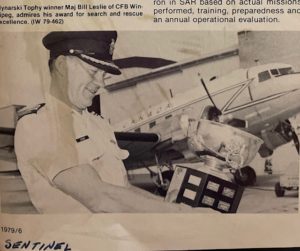 The Mynarski Trophy, awarded for contributions to search and rescue (SAR), has gone to an individual this year. Major Bill Leslie, senior staff officer for air transport at Air Command Headquarters Winnipeg, was selected by the RCAF Association.
Major Leslie joined the Forces in 1952 and has worked in SAR since 1964. His outstanding efforts in that capacity have made him well known in Canadian SAR circles. In 1976 he participated in a major government study of SAR resources. He also sat on the inter-departmental SAR committee on organization and control of government SAR resources. Over the years, he has assisted in the improvement of Canadian Forces helicopters and helped develop the SAR technicians' trade.
The trophy was created by former members of the Polish Air Force who now belong to the RCAF Association, to honour the memory of Pilot Officer Andy Mynarski. He was awarded the Victoria Cross for attempting to rescue a trapped tail gunner in his crippled and burning bomber over France in 1944. The tail gunner lived to tell of Mynarski's sacrifice, but Pilot Officer Mynarski died as a result of his burns. He was awarded the VC posthumously.
Since 1976 the trophy has been awarded to the most deserving squadron in SAR based on actual missions performed, training, preparedness and an annual operational evaluation