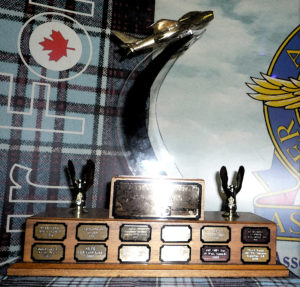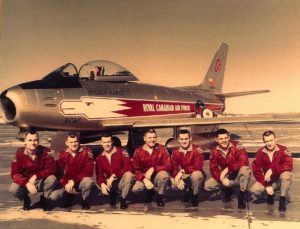 The RCAF Golden Hawks Award
Introduced in 1994, the RCAF Golden Hawks Award honours the famed precision air display
team formed in 1959 to mark Canada's 50th anniversary of powered flight. Flying Canadairbuilt
F-86 Sabres, the team quickly established a world standard for jet aerobatics. The award
was specially designed and constructed by Canadair/Bombardier employees for presentation
"in recognition of outstanding contributions… in any field of military aviation."
The Golden Hawks were a Canadian aerobatic flying team that was established in 1959 to celebrate the Royal Canadian Air Force's 35th anniversary and the "Golden" 50th anniversary of Canadian flight, which began with the AEA Silver Dart in 1909. Initially, a six-plane team flying brilliantly-painted metallic-gold Canadair Sabre Mk.5s, was envisioned as performing for only one year, but the Golden Hawks were so popular after their single 63-show season that the team was expanded. In the following year, another plane was added to the team, allowing for a five-plane main formation with two solo jets. The Golden Hawks continued performing for three more seasons, changing to the Mk 6 in 1961, until they were disbanded on 7 February 1964, having flown a total of 317 shows across North America.
T-33 Ejection Seat Upgrade Project Team – 2001
The TOR HELAIRDET deployed on OP ARTEMIS 14 Ian 13 — 27 Feb – 2014
The Golden Hawks trophy was established in 1993 to recognize outstanding contributions or highly commendable achievements in any field of military aviation in Canada.