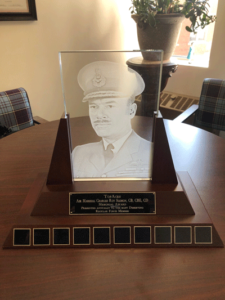 Section 3 – TopAces -RCAF A – Air Marshal C.R. Slemon Trophy
3.01     This award recognizes the outstanding performance of an individual member of the Royal Canadian Air Force, particularly focusing on Non-Commissioned Members. This individual will be designated "(Regular Force) Aviator of the Year".
3.02     Any member of the Royal Canadian Air Force is eligible for this award.
3.03     The criteria for nominations are:
i) A recommended recipient must be a member of the Canadian Armed Forces, engaged in military air service or support;
ii) The achievements of the proposed recipient may include service to the nation in operations, outstanding contributions in support of United Nations' international tasks or outstanding achievements in community activities, both on or off-base (examples could include supporting youth activities [particularly Air Cadets] or exceptional service to citizen or social programs).
(3.04 to 4.00 inclusive, not allocated)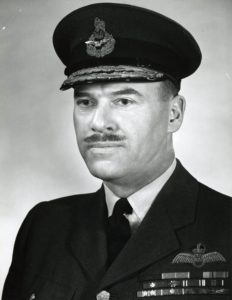 Air Marshal Charles Roy Slemon, CB, CBE, CD (7 November 1904 – 12 February 1992), known as Roy Slemon, was the Royal Canadian Air Force's Chief of the Air Staff from 1953 to 1957.
Slemon joined the Royal Canadian Air Force in 1922. After an early military career flying Vickers Vedettes, he served as Senior Staff Officer and then as the Commander of Canada's Western Air Command from 1938 to 1941. After a posting to the United Kingdom, Slemon became Senior Air Staff Officer at No. 6 (Canadian) Bomber Group in 1942. During the last year of World War II, Slemon was Deputy Air Officer Commander-in-Chief of the RCAF Overseas.
Slemon became Air Officer Commanding Training Command at CFB Trenton in 1949, Chief of the Air Staff in 1953 and Deputy Commander in Chief of NORAD in 1957. He retired to Colorado Springs in 1964.
2001 – Air Marshal C. Roy Slemon Award – Corporal Paul Alexander Gillmore, 19 Wing Comox
2014 – Sergeant Scott Macdonald