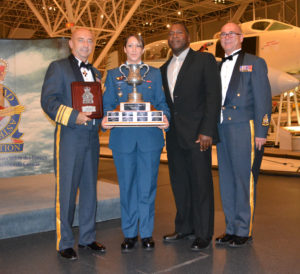 2014 – Master Corporal Chantal Vaughan is nominated for the Air Marshall W.A. Bishop, VC Trophy for 2014. Her dedication, professionalism and exemplary supervisory skills this past year have highlighted MCpl Vaughan's natural leadership ability and her outstanding commitment to the RCAF. Due to the omnipresent and unceasing nature of 22 Wing's NORAD role in domestic air operations it is imperative that personnel have ready access to the Food services necessary. Just as aircraft require fuel, command systems power, so personnel need the meals necessary to maintain the watch whether from the console or the front gates. Be it the supplemental food for crews on shift, meals for security forces on heightened posture or the mass feedings of assigned territorial defence units, MCpl Vaughan has been a key component to this Wing's preparedness to defend North American skies. Tasked as l/C Rations / Catering supervisor and the Food Service Admin clerk, MCpl Vaughan immediately took the initiative to fulfill the responsibilities and obligations of these demanding positions which were previously filled by two MCp|s. As the Catering Supervisor, her passion and experience were evident through the creation of unique menu selections for high profile functions.
Spending countless hours of her own time to ensure the best possible experience for diners, MCpl Vaughan's superb communication skills allow for clear and efficient planning when organizing events. Her ability to correspond with ease and assurance provides customers with a feeling of absolute confidence that their event will be flawlessly executed and a complete success. Her achievement of a college diploma in Food and Nutrition on her own time has been an asset to her position as well as demonstrating her passion for her chosen trade.
MCpl Vaughan has performed the duties of Kitchen IC in the absence of her supervisor during a 2 month period and displayed a professional and positive demeanour in the performance of all tasks. Her daily tasks of coordinating food deliveries and purchase order reconciliation ensure that the menus presented at 22 Wing met national nutrition standards and ensure the kitchen adhered to the financial and procurement policies. Her computer skills as well as DRMIS and Unitrak knowledge allow for accurate and efficient flow of administration and financial documentation within Wing Foods. MCpl Vaughan synchronises her tasks with production to-ensure that cost-effective measures are followed and met. Her efforts have been paramount, enabling Wing Foods to meet financial constraints, demonstrate 100% accuracy for Post Payment Verifications and surpass the Canadian Food Safety Code standards as pointed out in flawless preventive medicine reports. MCpl Vaughan consistently shows dedication to her job by staying after hours to assist with food preparation and private functions. MCpl Vaughan continues educational upgrading, improving her role as Rations / Catering supen/isor and Foods Admin clerk.
MCpl Vaughan is active within the North Bay and 22 Wing communities; participating in the annual Big Bike Ride with the Heart and Stroke Foundation as well as the Rotary Club of North Bay. She supports the Rotary 4kids program as it raises monies for equipment purchases for disabled youth in North Bay and surrounding areas. An avid sports enthusiast, MCpl Vaughan has organized teams to take part in the Great Northern Adventure Race and the CAF Force Fitness challenge. MCpl Vaughan continues to spearhead Wing Logistics and Engineering functions in orderto build a team environment within the section and boost morale of her subordinates, peers and supervisors.
MCpl Vaughan is an exceptional individual, who is absolutely essential to the operations of this Wing. She consistently surpasses expectations and plays a pivotal role in all successes of Wing Foods, Wing Logistics and Engineering and 22 Wing as a whole. Her work ethic, meticulous attention to detail, organizational skills and pride in her trade demonstrate her talent as a cook and as a leader within the Canadian Armed Forces. MCpl Vaughan is highly recommended and deserving of this award.